QB 'Taylor made' for VUU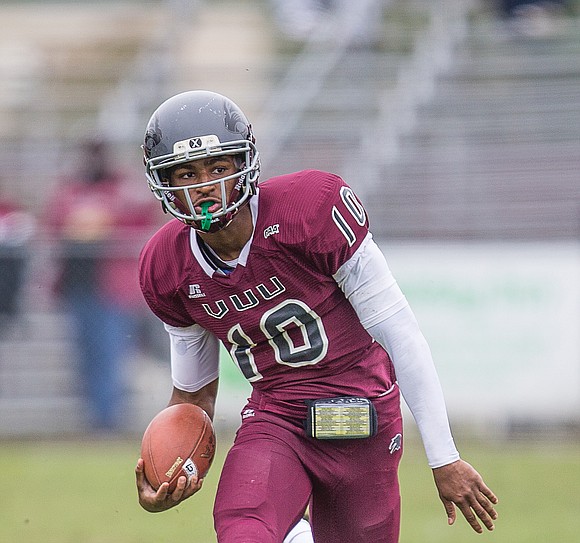 Darius Taylor was Virginia Union University's surprise package a year ago.
From someone who wasn't even on the 2017 opening day roster, the Washington native emerged practically out of nowhere as one of the CIAA's most prolific quarterbacks.
Now as a senior, Taylor is fired up and primed for an encore under the Panthers' first-year Coach Alvin Parker.
Season opener
College football, and all the pageantry surrounding it, is returning to Richmond's North Side on Saturday, Sept. 1.
The Virginia Union University Panthers, led by new Coach Alvin Parker, will open the season at 1 p.m. at Hovey Field against Seton Hill University of Greensburg, Pa.
Nicknamed the Griffins, Seton Hill is a Roman Catholic school that was 0-11 last season. It is a member of the NCAA Division II Pennsylvania State Athletic Conference. 
"It's my second year here. I've worked out and trained hard. I think I can show a lot more," said Taylor, 22, a 6-foot-5 criminal justice major.
Taylor proved to be rust- proof last autumn. He'd been away from the gridiron for two years and was nearly ready to hang up his shoulder pads when VUU called.
"I was almost done," he said. "Really, it was mostly a couple of my old friends from D.C. who were at Union who talked me into giving it another try."
You might say Taylor took the scenic route from Calvin Coolidge High School in Washington to VUU's Lombardy Street campus.
He had a solid 2014 season at Monroe College in the Bronx, N.Y., alternating at quarterback for the junior college program. Then he dropped out of Monroe and returned home, sitting out both the 2015 and 2016 seasons.
Taylor arrived at VUU last season under Coach Mark James. But eligibility questions kept him off the roster until the second game of the season. He didn't dress for the team's opening loss at Long Island University.
Once questions were cleared up, he took off, wearing the No. 10 jersey for the maroon and steel.
There were big cleats to fill. Former VUU quarterback Shawheem Dowdy had passed for 4,500 yards and 42 touchdowns in 2015 and 2016 combined under Coach James.
The quarterback position was open last fall and the Washington transfer was "Taylor made" for the opportunity.
In nine games, Taylor was 135-for-263 for 1,953 yards and 22 touchdowns. He had eight interceptions.
"Darius has a huge arm," Coach Parker said. "He's capable of big plays."
Coach Parker, a native of Washington, added, "He comes highly recommended. His high school coach was my youth league coach in D.C."
Taylor is cool under pressure and quick-footed enough to avoid the initial pass rush. His best games in 2017 came against the CIAA divisional champs.
He was 24-for-35 for 383 yards and five touchdowns against CIAA Southern Division champ Fayetteville State University. He threw for 330 yards and four touchdowns in the season finale against Northern Division champ Virginia State University.
Taylor is a classic late bloomer. At Coolidge High School, he was 5-foot-3 as a freshman and still just 5-foot-11 as a senior. Recruiting was light.
"I've grown about six inches since high school," he said. "When people see me for the first time in a long while, they say, 'What in the world?' "
Then after nearly calling college and football quits, he arrived at VUU "just a couple of weeks before classes," he recalled. It just goes to show it's never too late.