Nation bids farewell to former President George H. W. Bush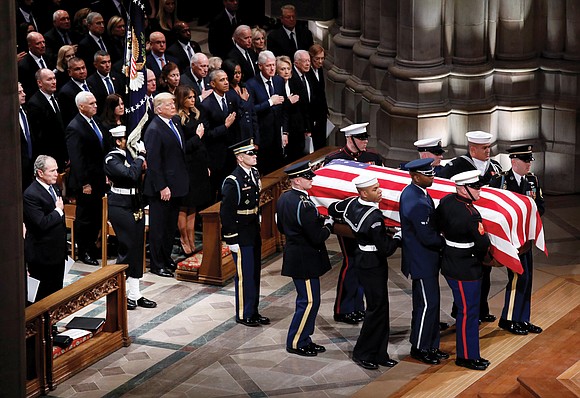 Former President George H.W. Bush was celebrated with high praise and loving humor Wednesday at a farewell to the man who was America's 41st president and the last president to serve on active duty in wartime.
The current president and three former U.S. presidents looked on at Washington National Cathedral as a fourth former president — George W. Bush — eulogized his dad.
"To us," the son said of his father, "his was the brightest of a thousand points of light."
The former president died peacefully on Friday, Nov. 30, 2018, at his Houston home. The 94-year-old was surrounded by family and friends and reportedly had talked with his son, George, on the phone, telling him that he loved him.
The former president had been struggling for some time with a form of Parkinson's disease and had been hospitalized with pneumonia several times in recent months.
After three days of funeral events in Washington, the body of the late president was flown home to Texas on Wednesday for the last ceremony ahead of his scheduled burial on Thursday, Dec. 6.
The final prayers were scheduled to be said at St. Martin's Episcopal Church in Houston before interment in the family plot on the grounds of his presidential library at Texas A&M University in College Station.
President Bush was to be buried alongside Barbara Bush, his wife of 73 years, and Robin Bush, the daughter they lost to leukemia in 1953.
After Wednesday's cathedral service, the hearse and a long motorcade drove to the National Mall to pass by the World War II Memorial, a nod to the late president's service as a World War II Navy pilot, before a trip to Joint Base Andrews in Maryland.
"Hail to the Chief" was played for Mr. Bush for a final time in the capital before the plane with his casket and family members took off for Houston.
During the funeral, George W. Bush broke down briefly at the end of his eulogy while invoking the memory of the daughter his parents lost when she was 3 and his mother, Barbara, who died in April. He said he took comfort in knowing "Dad is hugging Robin and holding Mom's hand again."
For all the somber tributes to the late president's public service and strength of character, laughter filled the cathedral time after time. The late president's eulogists — son included — noted President Bush's tendency to tangle his words and show his goofy side.
He was "the last great-soldier statesman," historian Jon Meacham said in his eulogy, "our shield" in dangerous times. But he also said that President Bush, campaigning in a crowd in a department store, once shook hands with a mannequin. Rather than flushing in embarrassment, President Bush simply cracked, "Never know. Gotta ask."
The congregation at the cathedral was filled with foreign leaders and diplomats, Americans of high office and others touched by President's Bush's life. As the casket arrived, accompanied by clergy of faiths from around the world, President Trump and former Presidents Barack Obama, Jimmy Carter and Bill Clinton, all seated in a row together, stood with their spouses and all placed their hands over their hearts.