Veteran news photographer shoots for retirement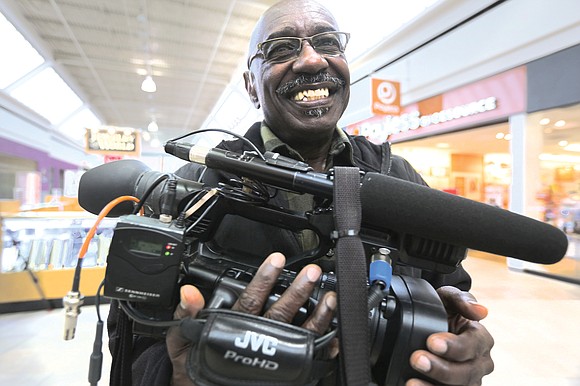 Richmond native Willie Redd has laid down his video camera and stepped away from WWBT-NBC12 after more than four decades of covering local and national news.
The veteran photojournalist, videographer and photographer supervisor has been a fixture in the Richmond market at the television station and at other media outlets, including the Richmond Free Press and the former Richmond Afro-American.
"This has been a wild and crazy ride for 46 years," Mr. Redd said in a Free Press interview last week.
Mr. Redd has won numerous awards for spot news, sports and features from the Virginia News Photographers Association. His still photography was his foundation as he worked as a freelancer to support his early meager earnings in TV news.
"I met Raymond Boone Sr., then editor of the Richmond Afro-American, in 1972 or 1973," Mr. Redd fondly recalled. "He saw my first news photography of a late-night or early morning accident scene that was published in the local daily."
He said he approached Mr. Boone and said, "I can do this kind of work if you give me a chance."
"Mr. Boone responded, 'Of course. Bring me some pictures with the caption material and we will see if we can publish your work.' "
That started a long relationship that continued after the late Mr. Boone started the Richmond Free Press in January 1992. Mr. Redd documented street festivals, parades, art exhibits, poetry readings and events impacting Richmond's African-American community.
"The Richmond Free Press has done a fantastic job of presenting the news in a factual, clear and precise way. I hope for them the best as they continue to move forward. Our success depends on us supporting each other," Mr. Redd said
Mr. Redd's storied career has taken him to Havana, Cuba, to document culture and produce programming for TV One with actors and film producers Tim and Daphne Maxwell Reid.
During the administration of former Gov. George Allen, he went on a trade mission to South Africa with First Lady Susan Allen, along with former NBC12 anchor Sabrina Squire, who retired in May.
One of his unforgettable moments came when he worked the 2:30 to 11:30 p.m. shift and was asked to interview white supremacist and politician David Duke, a former grand wizard of the Ku Klux Klan, at a meeting at a local hotel.
"The empowering part of my job is having a camera and feeling invincible," Mr. Redd said with amusement. "So I walked up, right in front of the room, and faced the audience. Mr. Duke was very much a gentleman. He looked me in the eye and shook my hand and introduced himself. He made me feel comfortable.
"As a news photographer, you are supposed to set all of your biases aside and just be neutral. I did, and interviewed him in front of the 'Stars and Bars' (the Confederate flag), which was widely displayed on the wall because it was an organizational meeting."
As Mr. Redd settles into retirement, he has more time to take motorcycle trips up and down the East Coast, go camping and build a utility shed to house one of his motorcycles.
The 1967 Maggie L. Walker High School graduate and Navy veteran leaves a strong legacy for new journalists and a little bit of advice: "Whether you are a reporter, videographer, photographer, editor or producer, do what you love. Do it with enthusiasm. Don't do it because you want to get paid.
"Do it because you love it and take pride in what you do."