Kym Grinnage, seven others inducted into Virginia Communications Hall of Fame
4/2/2020, 6 p.m.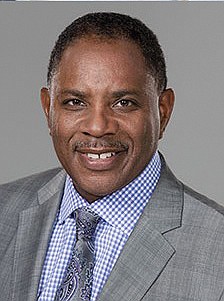 Kym Grinnage, vice president and general manager of WWBT-TV NBC12, is among eight media professionals inducted March 26 into the Virginia Communications Hall of Fame.
While the ceremony was canceled because of the COVID-19 pandemic, the announcement of their induction was made by Dr. Marcus Messner, interim director of the Richard T. Robertson School of Media and Culture at Virginia Commonwealth University. The Robertson School has hosted the Hall of Fame since its inception in 1986.
Dr. Messner stated that a smaller event to honor the inductees is being considered for the fall.
Honorees were selected based on their outstanding long-term contributions in journalism, advertising, public relations, new media and other media-related fields. They all were either born in Virginia or became distinctly identified with the state.
Mr. Grinnage joined NBC12 in 1990 as an account executive and rose through the ranks to become the station's leader in 2011. He also assumed responsibility of WUPV-TV CW Richmond in 2019. He is the recipient of three Associated Press awards for Best Editorial and a Virginia Center for Inclusive Communities' 2018 Humanitarian Award.
Other inductees:
Barbara Ciara, anchor and managing editor of WTKR-TV News 3 in Hampton Roads;
Doug Coleburn, retired editor of the Blackstone Courier-Record, where he has served since 1948;
Brian Ellis, executive vice president of Padilla communications and public relations agency, where he leads its crisis and issues management practice;
Bill Eure, former owner of WPLZ-FM in Petersburg who began the first African-American programmed FM station in the Richmond market in 1981 with Magic 99. He went on to own a radio station in Yorktown and three in Charlottesville with his sons. A former president of the Virginia Association of Broadcasters, Mr. Eure died in January 2019;
Cabell Harris, founder of WORK Inc., a creative branding agency in Richmond, and a professor for more than 10 years at the VCU BrandCenter;
Thomas P. Kapsidelis, a veteran Virginia journalist, newspaper editor and author of "After Virginia Tech: Guns, Safety, and Healing in the Era of Mass Shootings," published in 2019; and
Donald Lee, award-winning cameraman and journalist for CBS News' "60 Minutes" based in Washington. He was a student at VCU and started his career at WWBT-TV in Richmond, now NBC12.