City Council to take up affordable housing and homeless issues at Dec. 17 meeting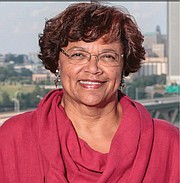 Richmond's governing body is planning to provide a $1 million increase to a City Hall loan pool that assists developers in generating affordable housing and to boost the city's role in tackling the issue of homelessness.
The City Council also will consider requiring housing developers that receive city subsidies in the form of money or land to support apartment or home development to set aside at least 15 percent of any new units for affordable housing.
Approval of these items would represent victories for Councilwoman Ellen F. Robertson, 6th District, who has spearheaded the proposals.
City Council, which moved its next meeting to Monday, Dec. 17, because of this week's snow, is expected to direct the $1 million increase to the city's Affordable Housing Trust Fund, which provides loans to projects that seek to maintain current affordable housing or build new units.
The proposal is listed on the consent agenda, indicating that it has overwhelming support.
First cleared through the Land Use, Housing and Transportation Committee, the legislation calls for steering $1 million of the money the city collects from tax-delinquent properties to the AHTF, doubling the amount of money in the fund.
Ms. Robertson several years ago won council approval for an annual appropriation of $1 million to the AHTF, but has said that amount is too small and has ambitiously sought to find ways to create a far larger loan pool.
"If this fund is going to have an impact in meeting the need for affordable housing, we need to build it up to at least $20 million," she told the Free Press.
She initially proposed to steer all of the funds above expenses collected from tax-delinquent properties that the City Attorney's Office handled. In the 2017-18 fiscal year that ended June 30, the office auctioned 136 properties and had owners pay off past due taxes on 84 others, resulting in the collection of $5.9 million, including $1.7 million in legal expenses.
Separately, the council is scheduled to debate on Dec. 17 Ms. Robertson's proposal to require apartment developers who receive direct city support to ensure that 15 percent of the residential units are "reserved for affordable housing."
While the proposal cleared the Land Use committee, it moved forward without a recommendation for approval, remains controversial and is less certain of winning the crucial five votes needed to pass.
On the homeless front, Ms. Robertson, with help from others on council, also is poised to win her fight to require City Hall to come up with a strategic plan "to eliminate homelessness."
Under Ms. Robertson's proposal on the consent agenda, the city's chief administrative officer would be required to develop and submit the city's new homeless strategic plan to the council by Oct. 1, 2019, and to update it every two years thereafter. The CAO also would be required to report annually to a council committee, Government Operations, on the progress being made in carrying out the plan.
The legislation that Ms. Robertson is co-sponsoring with City Council members Andreas D. Addison, 1st District, and Kim B. Gray, 2nd District, is seen as increasing city involvement in dealing with the problem, rather than leaving the solutions to Homeward, CARITAS, Commonwealth Catholic Charities and other nonprofits that provide many of the services to those lacking shelter.