Chief Durham reflects on his tenure in Richmond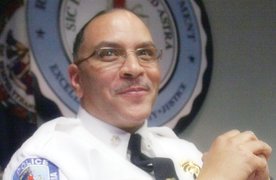 Richmond Police Chief Alfred Durham is done.
He wrapped up Dec. 20 by issuing promotions to 12 officers, including naming three deputy chiefs and tapping one, William C. Smith, to serve as acting chief.
Saying "I'm burned out; I have nothing else to give," Chief Durham walked out of his office for the final time and headed to see family in Washington. He turned in his badge and department-issued gun as he took vacation ahead of his official retirement date on Dec. 31 from his Richmond post and policing.
His retirement will bring to an end a 31-year career in law enforcement, along with four years of active duty in the U.S. Marine Corps and 13 years in its reserves.
Now 55, he rose to deputy chief in Washington during his 25 years there and served as a major and chief of staff in Richmond before becoming Richmond's 18th police chief in February 2015.
He will leave behind a department that has become the best in the country in solving homicides as a result of the hard work of officers and detectives and strong community support, but which remains short-handed as it struggles to fill its ranks.
Acting Chief Smith, who had been Chief Durham's chief of staff, will serve as the department's commander until Mayor Levar M. Stoney and Selena Cuffee-Glenn, the city's chief administrative officer, name an interim chief during the search for Chief Durham's successor.
Essentially leaving his stamp on the department before his successor arrives, Chief Durham also promoted Maj. Sydney G. Collier, who previously served as acting deputy chief of patrol and major of Operations Area 1 for First Precinct and Second Precinct, to deputy chief for operations.

Chief Durham also promoted William Friday, a civilian from finance to deputy chief for business services, while giving Maj. Darrell Goins, who had been serving as acting deputy chief for business and support services, command of Operations Area 1.
In a press release on the promotions and in comments to reporters on his final day, Chief Durham urged Mayor Stoney to look inside the department for his replacement rather than continuing the practice of previous mayors and city councils of choosing a chief from elsewhere.
"One of the strengths of the RPD is the outstanding quality of its officers and civilian employees," Chief Durham stated in announcing the promotions. "As I retire, I know these new assignments will secure the progress we have made in the nearly four years I was chief."
During a discussion with reporters, he emphasized the point.
"We have the talent. … I'm confident there are several members of the senior command staff that could step up."
Along with naming six new sergeants and two lieutenants, Chief Durham promoted Capt. John O'Kleasky to major and put him in charge of Operations Area 2, which includes Third Precinct and Fourth Precinct.
Chief Durham expressed pride that violent crime had dipped this year after a spike in 2017.
He leaves behind a department that is better equipped with computers in cars and body-worn cameras, which have helped dispel false complaints, he said, such as the one spread by gardening activist Duron Chavis about being stopped for the "smell of marijuana" rather than because he was driving a car with expired license tags and an expired inspection sticker. During the stop, officers also learned he was driving on a suspended license, the chief said.