Deacon Charles Williams named interim head of Office for Black Catholics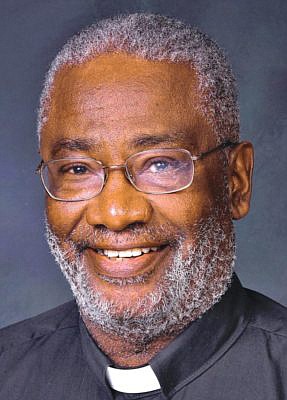 Deacon Charles Williams has been appointed interim director of the Catholic Diocese of Richmond's Office for Black Catholics.
The appointment was made by Bishop Barry C. Knestout, effective Dec. 1.
The appointment was a surprise to Deacon Williams, 67, who is assigned as a deacon at the Cathedral of the Sacred Heart and works to support the diocese's prison ministry.
"I did not seek the position," Deacon Williams told the Free Press last week. "I did not ask for it. It's got to be from God. God spoke through the bishop."
He succeeds Pam Harris, who became director of Catholic Ethnic Ministries for the Diocese of Columbus, Ohio, in July.
Deacon Williams' responsibilities with the Office for Black Catholics will be in addition to his current duties.
The Office for Black Catholics was started in 1980 by Sister Cora Marie Billings , its first director, to advocate for more African-Americans to become priests and nuns, more diverse leadership in the Roman Catholic church, equality in education, social justice issues and pastoral ministries throughout the community.
According to Bishop Knestout's announcement, Deacon Williams will continue the office's mission by seeking opportunities for continuing inclusion and participation of black Catholics within the diocese and to oversee a pastoral planning process to effectively serve the black Catholic community, as well as a renewed focus on evangelism within the African-American community.
Deacon Williams said he wants to build on the work of Ms. Harris.
"One of the great things the office did was to bring black priests to this diocese," he said, noting that few black priests were part of the Richmond diocese.
"You have to be able to see people that look like you and have someone to talk to if you feel a call to the religious life. I want young, interested African-Americans to be able to know someone or reach out to someone so they can explore the options." Of the 222,000 Catholics in the Diocese of Richmond, 6,200 are African-American, Deacon Williams said.
Deacon Williams, who grew up in Richmond's Jackson Ward, is a product of Catholic education. He believes Catholic education is vital to all people in Metro Richmond, regardless of ethnicity or religious background.
He attended Van de Vyver, the Catholic school that was located next to the former Saint Joseph's Catholic Church at 1st and Jackson streets in Jackson Ward, and Cathedral Elementary School for eighth grade before going to Benedictine High School, where he graduated in 1969.
After graduation, he attended Howard University until he joined the U.S. Air Force.
Deacon Williams said his road to attaining his position with the Catholic church.
"When the Richmond diocese closed down Van de Vyver and Saint Joseph's Catholic Church, I got tremendously angry at the church, God and the whole religious thing," he recalled. "I thought that if God allowed my church to be closed, then I didn't need God or church."
Then in 1996, his father, Charles Williams Sr., was murdered in Church Hill.

"About three years before, he began to go back to church, attending St. Paul's Baptist Church," Deacon Williams continued. "In all of my life, I never saw my father step foot in a church. He thought preachers were hustlers trying to bank other people's money.
"He found something at St. Paul's Baptist Church, and then our relationship changed."
Three months after his father's death, Deacon Williams went back to church — at St. Paul's Catholic Church.
"I was running to make up the 25 years that I had missed. I didn't realize how much church and religion meant to me. I spent that whole time probably living another life. I had a successful career but it was not anything that was fulfilling."
Since retiring from his job as data center operations manager for Dominion Virginia Power in 2003, he has found fulfillment working in the church. He was ordained as a deacon in 2013.
He said he believes God had this calling for him for years, but he ignored it because "I didn't have the role models."
"When all of this was stirring around in me, I didn't know what it was and didn't have anyone in the church that looked like me to talk to."
He said because of his life, he is an example of what the Catholic Church can do in people's lives.