LA Chargers get new jolt with Coach Anthony Lynn
Fred Jeter | 12/28/2018, 6 a.m.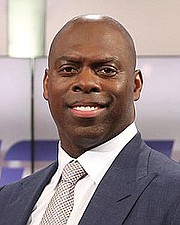 After a lengthy, listless period, the NFL's newest Los Angeles franchise is all charged up.
With much credit going to second-year Coach Anthony Lynn, the Los Angeles (not San Diego) Chargers are at last playing like the lightning bolts on their helmets suggest.
The Chargers (aka "Bolts") shook the sports world with two head-spinning developments on Jan. 12, 2017. After calling San Diego home since 1960, team owner Dean Spanos announced the franchise would be relocating to the Los Angeles area.
Later that same day, Spanos announced Coach Lynn would become the program's first African-American coach, replacing Mike McCoy, who was 9-23 in 2015 and 2016.    
Coach Lynn, 50 and a native Texan, is a former NFL running back and well-traveled assistant coach. He has provided the Chargers an overdue jolt.
The Chargers have been to just one Super Bowl — losing to the San Francisco 49ers in 1994 — and hadn't made serious playoff noise in sunny Southern California, it seems, since the Beach Boys were in their prime.
December report card
Here's a rundown of the records of the NFL's African-American coaches through 14 games:
• Todd Bowles, New York Jets, fourth season, 4-10
• Vance Joseph, Denver Broncos, second season, 6-8
• Marvin Lewis, Cincinnati Bengals, 16th season, 6-8
• Anthony Lynn, Los Angeles Chargers, second season, 11-3
• Mike Tomlin, Pittsburgh Steelers, 16th season, 8-5-1
• Steve Wilks, Arizona Cardinals, first season, 3-11
Coach Lynn's rebuilding project took wing last year, with the team ending the season with a 9-7 record and narrowly missing the playoffs. Momentum escalated this year as the AFC West squad carried an 11-3 mark into last weekend.
A former All-Southwest Conference running back at Texas Tech, Coach Lynn played with the NFL Denver Broncos and the San Francisco 49ers from 1993 to 1999, earning two Super Bowl titles with the Broncos in 1997 and 1998.
Having never coached a college team, Coach Lynn has an extensive sidelines résumé that is all about the NFL.
Coach Lynn was an assistant with the Denver Broncos, the Jacksonville Jaguars, the Dallas Cowboys, the Cleveland Indians, the New York Jets and the Buffalo Bills, where he was interim head coach for one game, before coming to the rescue in Los Angeles.
Coach Lynn is happy to be coaching and happy to be alive.
On Aug. 20, 2005, he was the victim of hit-and-run near Dallas' training facility in Ventura, Calif. Coach Lynn and Todd Haley, whom he was traveling with, were Cowboys assistants under Bill Parcells. The driver who caused the near-fatal wreck was later determined to be intoxicated.
It was a harrowing experience. Coach Lynn suffered two collapsed lungs and temporary paralysis of his legs. He underwent four surgeries.
Despite all that, the strong-willed coach returned to the team for the start of the regular season.
The Chargers are surging despite having the NFL's worst attendance and the fact that Los Angeles hasn't fully embraced the newly relocated team.
The Chargers will play in StubHub Center in Carson, Calif., primarily a soccer facility, until Los Angeles Stadium at Hollywood opens in 2020 as the home of both the Los Angeles Rams and the Los Angeles Chargers.
The Chargers are led by veteran quarterback Philip Rivers, whose career has taken off under Coach Lynn. In a victory over the Arizona Cardinals on Nov. 25, Rivers tied an NFL record with 25 consecutive pass completions. He was 28 for 29 for the game.
Rivers' preferred target is receiver Keenan Allen (88 catches, 1,074 yards).
The Chargers' running game showcases tailback Melvin Gordon, who has averaged more than 5 yards per carry. Gordon also has 44 receptions for another 453 yards.
Through 14 games, the Chargers were fourth offensively of the 32 NFL teams, and ninth defensively.
Possibility looms for an "All L.A. Super Bowl," with the crosstown NFC Rams also having clinched a playoff berth. Super Bowl 53 will be played on Feb. 3 at Atlanta's Mercedes-Benz Stadium.