Chief Durham touts city's 2017 crime drop; asks for public's help
2/1/2018, 9:24 p.m.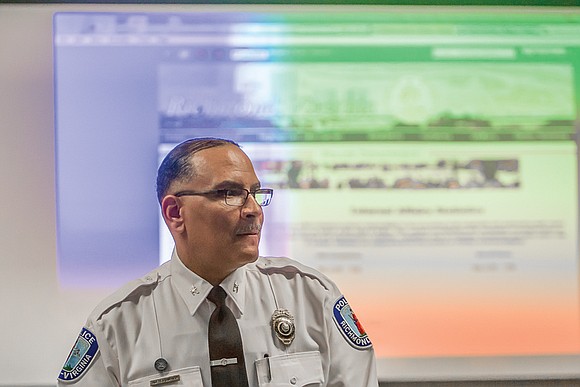 By Ronald E. Carrington
Richmond residents can breathe a little easier as overall crime in the city dropped by 1 percent in 2017.
During a media presentation on Jan. 24 at police headquarters, Richmond Police Chief Alfred Durham said violent crime — homicide, rape, robbery and aggravated assault — dropped by 2 percent in 2017, while property crimes — arson, burglary, larceny and auto theft — rose by 1 percent.
Driving the reduction in violent crime was a 27 percent reduction in reported rapes. The data show that 38 rapes were reported in the city in 2017, compared with 52 in 2016.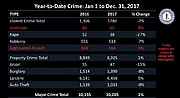 Further, the data also show that the number of homicides rose 8 percent in 2017 to 65, compared with 60 in 2016.
Arguments were the most common motive for homicides, Chief Durham said, with 19 reportedly stemming from disagreements. Another 15 were attributed to robbery, domestic violence and retaliation, according to the statistics, while nine were drug related.
"We, as a community, need to have a renewing of the mind that the level of violence has to stop and that the police can't do it alone," Chief Durham said. "A time has to come when those residents who are significantly impacted by crime, or those having information about crime, have to find the courage to speak up."
He said the department seized 865 firearms citywide last year, with 137 of those seized under the department's "Fugitives and Firearms Initiative." More than 180 felony arrests were made, he said.
Chief Durham expressed consternation that efforts to tighten Virginia's gun laws have been shot down in the General Assembly. He said he was at the General Assembly lobbying for tougher gun laws on Jan. 22 and returned disappointed but vowing to continue the fight.
"I will be there again next year because the legislature will have to understand that, unlike other areas, urban areas are having challenges with firearms," he said.
The chief talked about the many challenges the city faced in 2017 with the increase in gun-related crimes and several high profile rallies on Monument Avenue surrounding the Confederate statues that he said the department met both head on and with success.
He also discussed several department initiatives — walks through city neighborhoods by the chief, other ranking police officers and city agency workers; new walking beats in public housing communities; Coffee with a Cop and town hall meetings; and RVA Night League for Safer Streets — that he said are designed to enhance relationships and trust with Richmond residents.
He said the department saw a 34 percent drop in overall major crime in Gilpin Court and a 20 percent drop in Mosby Court since the 2017 inception of walking beats in those public housing communities.
The department, he said, plans to expand walking beats to other public housing communities in 2018.
He also credited Jawad Abdu and Paul Taylor, two formerly incarcerated men, with helping to reduce crime in six public housing communities through RVA Night League for Safer Streets, a basketball program for youths and young adults. The program also teaches teens how to resolve conflict, develop critical thinking skills and establish better relationships with other public housing communities.
Mr. Abdu and Mr. Taylor "knocked on our door — the people who put them away for their crimes — and said, 'We want to help you,' " Chief Durham said.
"Both men have been pounding the pavement in some of the city's most problematic areas trying to get kids who want to be a part of the program and steering them in the right direction," Deputy Chief Eric English told the Free Press.
"The project took off, and we are seeing results — safer streets and a reduction in crime," he said. "So we are going to try to expand" the program.
Chief Durham also touted statistics showing that only 44 citizen complaints were made to the department in 2017. With the department receiving 255,904 calls for service last year, that amounts to one complaint for every 5,151 calls, the chief said.
"Our goal is to exceed the community's expectation by reaching out to the community, showing respect and working together to build trust and safe environments through collaboration, partnerships and transparency."


He also announced that crime statistics will be posted weekly on the police department's website starting Feb. 1 at www.richmondgov.com/police/.