Church Hill North project among city's costliest new apartments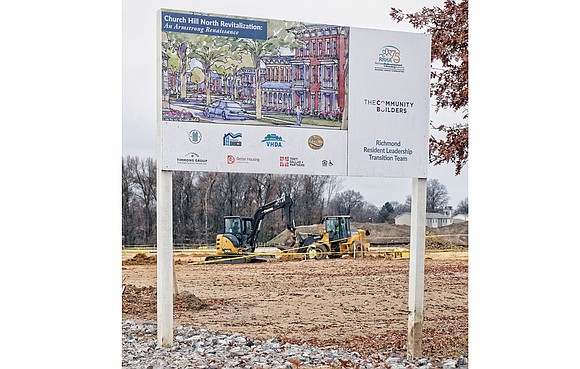 Some of the costliest apartments in Richmond are being built on the former site of Armstrong High School in the 1600 block of North 31st Street in the East End — miles away from the hot development centers of Manchester, Scott's Addition and Downtown.
City documents show, and officials confirm, that the initial elements of the development — 60 townhouse-style apartments and 45 rental residences for seniors — will cost between $23 million and $25 million to build, or an average of $219,000 to $238,000 a unit, depending on the final tab.
That price tag does not include the additional $8 million to $9 million in city tax dollars used to remove the old school building and to install streets, alleys and utility lines on the 22-acre property.
The bottom line: Apartments largely targeted for people with lower incomes, including some public housing residents in nearby Creighton Court, are costing between $42,000 to $70,000 per unit above the cost that private developers are spending on other apartment projects.

For example, the Better Housing Coalition is in the process of creating 52 apartments for lower-income people at the former Citadel of Hope on Venable Street in Church Hill, about a mile and a half southwest of the former Armstrong School site. Cost: $9.2 million or $177,000 per unit.
In Jackson Ward, the private EGP Properties LLC is developing 167 units of market-rate apartments. Cost: $28 million or $168,000 per unit.


In fact, based on a review of published reports on apartment construction in Richmond, the Armstrong site development appears more comparable in cost to the 12-story, 237-apartment complex being built along the Canal Walk at a cost of $58 million according to published reports. Cost per unit: $244,700.
In the case of the Armstrong site apartments, the nonprofit developer is unlikely to include electricity, internet and similar items in the rent, which is often the case in more upscale developments that charge higher rents.
The Richmond Redevelopment and Housing Authority, which is overseeing the Armstrong site development for the city, has not responded to several Free Press queries seeking an explanation for the high cost.
One person willing to explain was Lee Downey, the city's chief development officer, who has led the effort to secure City Council approval for the development.

He said The Community Builders, the Boston-based nonprofit developer hired by RRHA to undertake the development, is facing more government red tape that is adding $8 million to $10 million to the construction cost.
"That's why most private developers don't want to be involved," he said.
TCB spokeswoman Jacquinn Sinclair also tried to explain. She stated that TCB is spending $15 million to build the first 105 units, or about $142,000 a unit, "which we believe compares favorably."
Ms. Sinclair initially attributed the extra $8 million to $10 million TCB is spending to build the units to the cost of securing low-income tax credits to cover part of the cost of "delivering apartments at rents affordable to low and very low income residents."