Private contractors costing city big $ for snow removal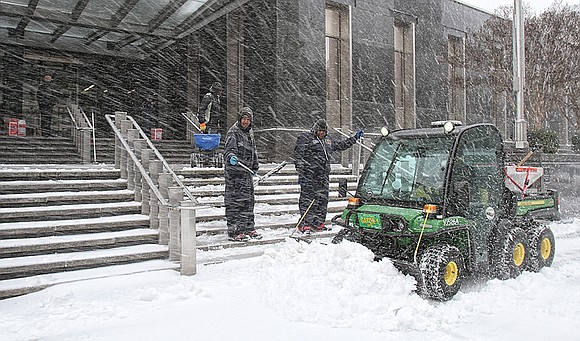 A 2015 audit of the city's fleet operations noted that a city consultant found 43 percent of the city's 2,600 trucks, cars and other vehicles are obsolete and need replacement.
That audit was issued a year after Public Works officials outlined to City Council a plan to begin replacement on a steady schedule.
Mr. Addison, who was employed at City Hall at the time, helped develop the replacement plan that was designed to ensure the city's fleet turned over regularly. But as he noted at last week's committee hearing, the $7 million a year program never was fully funded.
Since 2008, the city has spent an average of $3.5 million annually on vehicle replacement, far short of the $7 million a year the Public Works report indicated was a minimum requirement.
Mayor Levar M. Stoney, who has promised greater efficiency in city government, has not shown an interest in increasing funding to replace outdated city vehicles. Since taking office, he has put money left over from a previous fiscal year into savings.
Soon after taking office a year ago, Mayor Stoney learned the city finished the 2015-16 fiscal year with a $13 million surplus. He decided to put it all into savings in a quest to gain a triple A bond rating for the city. None was spent on critical needs such as vehicle replacement, according to city records and City Council information.
This year, when City Hall achieved a $16 million surplus in the 2016-17 fiscal year, Mayor Stoney put the majority into savings again. City Council, however, directed that $7.4 million of the surplus be spent, including $2.4 million for bonuses for city employees, $2 million for street and sidewalk improvements and $2 million to aid the city's underfunded pension plan. City Council also set aside $1 million for school maintenance.
None went to the purchase of new city vehicles.
The mayor will introduce the city's proposed 2018-19 budget in March.