'Black Panther' pounces on box office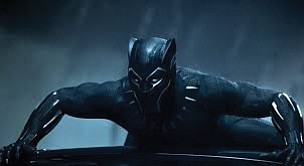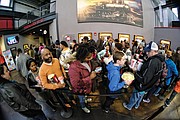 "Black Panther," the Disney and Marvel Studios' epic superhero film featuring a largely African-American cast and director, is blowing away audiences and box offices, raking in record amounts from its opening weekend while gaining praise from former First Lady Michelle Obama.
During the film's Presidents' Day weekend opening, "Black Panther" took in $242 million, making it the second highest, four-day U.S. opening of all time.
It even topped the hugely popular "Star Wars: The Last Jedi," but came in just behind the No. 1 "Star Wars: The Force Awakens."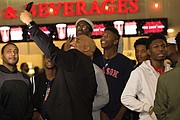 Disney also reported on Tuesday that the film's international total reached $184.6 million, led by South Korea and the United Kingdom.
Around the country, movie theaters with sold-out shows, long lines and fans decked out as characters from the film were commonplace.
The film, directed by Ryan Coogler, stars Chadwick Boseman as King T'Challa, ruler of Wakanda, a technologically advanced society in Africa. He comes in conflict with Michael B. Jordan's Eric Killmonger, who intends to take over the throne. Letitia Wright, Lupita Nyong'o, Angela Bassett, Danai Gurira and Daniel Kaluuya also star.
On Presidents' Day, the former first lady offered high praise on Twitter:
"Congrats to the entire #blackpanther team!" Mrs. Obama tweeted. "Because of you, young people will finally see superheroes that look like them on the big screen. I loved this movie and I know it will inspire people of all backgrounds to dig deep and find the courage to be heroes of their own stories."
In Richmond, 9th District City Councilman Michael J. Jones bought out a theater at Bow Tie Movieland for a private screening of "Black Panther" on Thursday night, giving away 200 tickets to mostly young people who had committed random acts of kindness for others.
"The goal was to show that we can be the every day heroes and make a difference in somebody's life," Mr. Jones told the Free Press on Tuesday. "I am still taken aback by the impact it had on young people who came out and wanted to be part of something special and unique. The movie had so many great themes."
Among those who took up Mr. Jones' challenge to make a difference and attended the film's local premiere were members of the Huguenot and George Wythe high schools' basketball teams, students from Virginia Union and Virginia State universities and members of Village of Faith Ministries, the church where Mr. Jones is senior pastor.
Even Mr. Jones had to do something kind for others to get a ticket. He said he purchased 50 tickets to an earlier show Thursday and gave them to parents of youngsters at Southside Community Center, which is located in his district.
"I told them thanks for being there for their children," he said.
He ended up seeing the movie twice more during the weekend with family and friends.
Playing a major role in the film's success is Ruth E. Carter, a 1982 Hampton University graduate, who designed the costumes.
Ms. Carter, 57, has a breadth of experience, with film credits for her work on Spike Lee's "Malcolm X," Ava DuVernay's "Selma" and Reginald Hudlin's "Marshall," in which Mr. Boseman also starred as the late U.S. Supreme Court Justice Thurgood Marshall.
In 2017, Ms. Carter was nominated for an Emmy Award for her costumes in the TV adaptation of Alex Haley's "Roots." She is the first African-American to be nominated for an Academy Award in costume design — with two nominations for "Malcolm X" in 1993 and "Amistad" in 1998.
Her interest in costume design started at Hampton University, where she took on the role of costume designer after not being cast in a play. While she was a theater arts major, she took a fashion course in another department and took on costume design roles with the university's traveling dance troupe.
Later, she went to Los Angeles to pursue costume design for the stage and was introduced by a college friend to a new director, Spike Lee, who urged her to gain experience in the film industry. It changed her life. She worked on 14 of Mr. Lee's films, with her first job as head costume designer on "School Daze."