Creighton Court residents left in the cold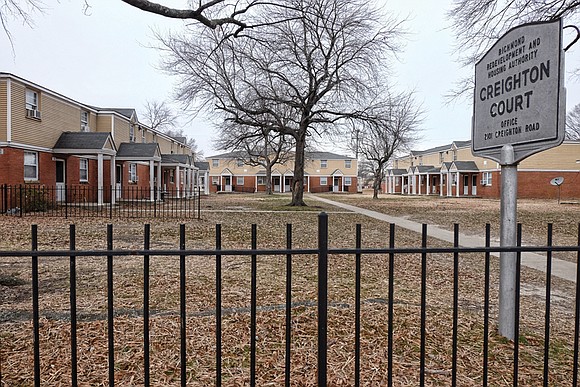 In his statement, Rep. McEachin said he was dismayed to learn last Friday, just before the New Year's holiday, that Creighton residents were going "without heat because long overdue repairs had not been initiated."
He said that RRHA since has informed him of plans "to secure multiple contractors to complete much-needed repairs. I am told bids for repair are due Friday, Jan. 12, and I sincerely hope the situation will be remedied very soon thereafter.
"While the process to correct this intolerable living situation finally has begun, I remain extremely disappointed that RRHA did not act to ensure all residents would have heat before winter began," the congressman stated.
"Representatives at RRHA have known about this impending problem for months, and now residents are being forced to suffer through these dangerously frigid conditions without a reliable heat source.
"The question must be asked why did RRHA wait until the wintertime to address this condition?
"My constituents and I are deeply disappointed by RRHA's response and demand better," he concluded with a promise to monitor progress to ensure the repairs are done as quickly as possible.
The heating problem doesn't affect everyone. Some residents in Creighton Court said they would like to dial back the heat a bit.
"It's blasting in here," said one woman.
But others are not so fortunate, as a reporter found in talking with more than a dozen residents. Indeed, many residents like Shenique Turner said they are happy to go to work because it is warmer at their jobs than in their apartments.
It is commonplace for residents in Creighton Court — and apparently at other RRHA complexes — to have to turn on stoves to generate heat.
RRHA has distributed space heaters to residents who complained, but turning on more than one at a time in an apartment can create another problem.
"If you put on two or more to stay warm, you blow the fuses," said one Creighton resident who declined to give her name. "It's a mess."
Inside one apartment, a young mother was frantically dialing RRHA's maintenance number around 3:45 p.m. Tuesday after the heat conked out in her apartment. All she got was a recording telling her to leave a message and someone would get back to her.
"I have a newborn and it's freezing in here," she said, declining to give her name. "I'm really worried. It's not right what's happening."