Personality: Lamont Bagby
Spotlight on chair of Virginia Legislative Black Caucus
1/5/2018, 3:53 p.m.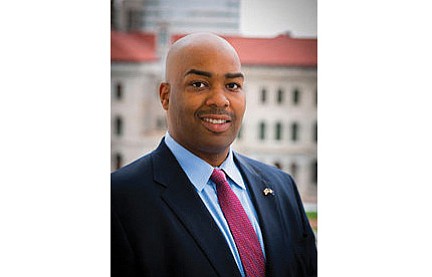 Alma maters: Bachelor's degree in business education, Norfolk State University, and master's in education leadership, Virginia Commonwealth University.
House committees: Commerce and Labor, Education and Transportation.
Why I accepted VLBC chairmanship:  There are many caucuses of the Virginia General Assembly, but none with a legacy as rich as the Virginia Legislative Black Caucus. I'm grateful for the opportunity to lead the caucus during a dynamic session in 2018. We have a real opportunity to ensure equity for all Virginians.
When elected chairman:  Dec. 20, 2017.
Length of term: The officers serve for two years.
The Virginia Legislative Black Caucus is necessary because: As state representatives, we work daily to advance the everyday concerns of our people at the state level. As long as black people and minorities disproportionately feel the negative impact of outdated or just plain bad legislation, there will continue to be a need for the VLBC. We provide a perspective that is often missing, a voice that historically goes unheard and continues to need amplification. We are passionately working to create change for our districts and minorities across the state.
VLBC's No. 1 objective: Our No. 1 priority in 2018 is to increase our community's confidence in us by taking advantage of recent gains in the legislature. We will push for new laws that make the commonwealth better for all Virginians. Black voters showed up at the voting booth this year, and we will make sure the General Assembly shows up for them.
Strategy for achieving it:  It's important for us as a caucus to move forward with a unified voice to ensure our communities are represented.
Top issue facing the legislature in 2018:  This year, we will pass a budget, which is an opportunity to impact several issues, and we will fight to make sure that the things that are most important to our community are a part of the budget.
View and influence of caucus on this issue: The VLBC wants to see a budget that supports all Virginians by expanding affordable health care coverage, ensuring adequate housing and providing equitable education for all children.
Top three issues the VLBC will focus on this session: Like our Democratic colleagues throughout Virginia, Medicaid expansion is a priority for the members of the caucus. Additionally, many of the schools in our communities need additional support in a variety of ways. We'll be tackling that issue on several fronts. Lastly, it is time once and for all to make the restoration of rights an automatic process This is an issue we will not lose sight of until it is done.
In the push for Medicaid expansion, the VLBC will:  Work in a bipartisan fashion to expand Medicaid and increase the number of individuals covered in Virginia while lowering costs.
What the VLBC can do to advance economic justice: At the foundation of economic justice is ensuring that our community has the opportunity to provide for their families and they need equitable wages to do so. We will continue to push for an increase in the minimum wage. Additionally, many entrepreneurs and small business owners come from the black community. Ensuring they have equal access to capital, affordable health insurance and bidding opportunities is key to addressing systemic inequality.