4th Circuit strikes down abortion disclosure law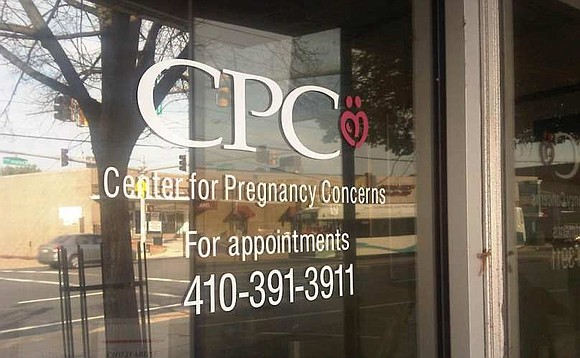 For the second time in six years, the 4th U.S. Circuit Court of Appeals in Richmond has thrown out a Baltimore city ordinance requiring pro-life pregnancy centers to post notices in their waiting rooms that they do not offer abortion or birth control services.
A three-judge panel of the appellate court upheld a lower court ruling in a challenge by the nonprofit Baltimore Center for Pregnancy Concerns Inc.
Writing for the unanimous panel, Judge J. Harvie Wilkinson IIII wrote that the law passed by Baltimore City Council is "too loose a fit" and "violates the First Amendment's free speech clause" by requiring the no-abortion notice to be posted.
"The city has considerable latitude in regulating public health and deceptive advertising," Judge Wilkinson stated. But the city went too far in seeking to "compel a politically and religiously motivated group to convey a message fundamentally at odds with its core beliefs and mission" of providing an alternative to abortion.
The law, passed in December 2009, was aimed at helping women who might want an abortion. Some people complained that they went to the center and it would not offer abortions and also never disclosed the service was unavailable.
Judges G. Steven Agee and Allyson K. Duncan joined in Judge Wilkinson's opinion.

The Baltimore center, which offers free pregnancy support services, operates out of space in a Catholic church. The center challenged the law, which was struck down in a lower court and also by another three-judge panel of the appeals court in 2011.
But in 2013, the full appeals court vacated the opinion of the panel and the lower court. The full court concluded that discovery was needed to determine the center's economic motivation, the scope and content of its advertisements, the effect of the ordinance and other matters.
In the years since, the case has been in a lower court as both sides collected and presented more information to make their cases.
The lower court once again found the ordinance was not narrowly tailored to further a government interest, in large part, because it affected all clinics offering only pregnancy support services whether they told women abortions would not be offered in their ads or did not advertise at all.
Judge Wilkinson stated that the center, as a nonprofit concern, is motivated not by making money, but by "moral, philosophical and religious" concerns in finding the evidence did not support a government effort to compel speech in this case.
On an issue as contentious as abortion, he concluded, "it may be too much to hope that despite their disagreement, pro-choice and pro-life advocates can respect each other's dedication and principle.
"But, at least in this case, it is not too much to ask that they lay down the arms of compelled speech and wield only the tools of persuasion. The First Amendment requires it."