More left in the cold
Hillside Court residents are plagued by same problem facing Creighton Court — no heat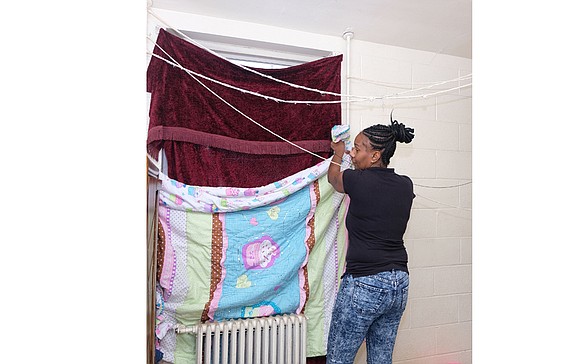 The perception that RRHA is an uncaring landlord can be found in the resident tales of the lack of response to the recent heating crisis. That image was amplified by a Jan. 3 Facebook post containing a photo of RRHA's chief executive officer, T.K. Somanath, attending a family reception at President Trump's Mar-a-Lago resort in Palm Beach, Fla., while Richmond public housing residents coped with bone-chilling cold in their apartments.
Mr. Somanath, who took over nearly three years ago promising to do more for the city's have-nots, has been telling everyone who will listen that the blame belongs to Congress and the U.S. Department of Housing and Urban Development. He said money to maintain the city's public housing has shrunk dramatically.
While more than $100 million is needed, the 72-year-old CEO has pointed out that RRHA is receiving only $750 per unit for maintenance, or about $3 million a year. He has said that the pipes in most buildings are 40 to 50 years old and past their useful life, requiring replacement.
But even years ago, when RRHA was receiving $6 million or more a year in maintenance funds from HUD, there was no serious program of preventative maintenance in place, such as a schedule for replacing aging wiring or plumbing and heating pipes.
Nor is there any sign of innovative solutions, such as hooking gas lines into relatively inexpensive gas-fired space heaters to replace the radiator systems.
And while RRHA has talked about replacing its public housing with modern developments, the agency has not rushed such progress. Even now, the only development underway is in the Creighton Court area. Proposals to redo Gilpin and Whitcomb are still just pipe dreams.
In fact, RRHA, an independent political subdivision whose only tie to the city is City Council's appointment of its board members, has always maintained that it had the maintenance of its apartments under control.
Neither Mr. Somanath nor his predecessors have ever brought the problem to City Council or requested that the city invest a big chunk of its Community Development Block Grant funds into upgrading public housing units.
Meanwhile, evidence is mounting that Mr. Somanath and his upper level staff paid little attention to maintenance needs until the heating crisis emerged.
While Mr. Somanath has yet to respond to the Free Press, he acknowledged this week that RRHA staff knew about growing problems with radiator pipes in Creighton Court a year ago, but never communicated the problem to him or deputies in charge of housing.
His style has been to push responsibility for such work to lower level management — in this case, the maintenance staff, who appear to have been empowered to make decisions about repairs without any consultation with RRHA administration.
Or he may have continued a practice that had been in place before he arrived at the RRHA.
In any case, Mr. Somanath indicated that no repairs were made in the initial four buildings between spring and fall. In October, when the heat started being turned on, the maintenance department sought guidance as leaking radiator pipes were found on the second floor of more buildings.