Sterling K. Brown makes history with Golden Globe Award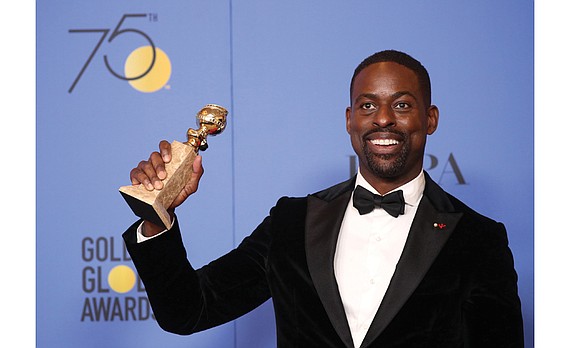 Free Press wire report
LOS ANGELES
Actor Sterling K. Brown made history Sunday night when he won the Golden Globe trophy for best actor in a dramatic television series, "This Is Us."
His win marks the first time an African-American actor has won in the category.
In accepting the award, he gave a shout-out to the creator of the NBC series, Dan Fogelman, for writing an inclusive role.
"You wrote a role for a black man that could only be played by a black man," he said to Mr. Fogelman, who was in the audience. "And so, what I appreciate so much about this is that I'm being seen for who I am, and being appreciated for who I am. And it makes it that much more difficult to dismiss me, or dismiss anybody who looks like me. So, thank you, Dan."
Mr. Brown's win was among the highlights of the evening that was dominated not by who took home prizes, but by jokes and speeches about the sexual misconduct scandal that has rocked Hollywood.
"Happy New Year, Hollywood! It's 2018. Marijuana is finally allowed and sexual harassment finally isn't," quipped Golden Globes host Seth Meyers in his opening remarks, bringing wild applause from the A-list audience in Beverly Hills.
Multiple allegations against actors, filmmakers and Hollywood agents since October 2017 have led to many of the accused being fired, forced to step down or dropped from creative projects.
Referring to the male nominees gathered in Beverly Hills for the top television and movie awards given by the Hollywood Foreign Press Association, Mr. Meyers said, "This is the first time in three months it won't be terrifying to hear your name read out loud."
The evening began with the normally colorful red carpet transformed into a sea of black gowns as actresses showed solidarity with victims of sexual harassment inside and outside the entertainment industry. Many have given their own harrowing accounts.
Women kept up the theme inside the Beverly Hilton ballroom.
"This year, we became the story," Oprah Winfrey said in a rousing speech while accepting the annual Cecil B. DeMille Award for lifetime achievement.
Frances McDormand, winner of the best actress award in a movie drama for "Three Billboards Outside Ebbing, Missouri," said she was proud to be a woman in the industry. "It's great to be here and be part of the tectonic shift in our industry's power structure," she said.
Laura Dern, a supporting actress winner for "Big Little Lies," said, "May we teach our children that speaking out without retribution is our culture's new North Star."
The Golden Globes ceremony, the first of the major awards shows in the run-up to the Academy Awards in March, marked the first big test of how Hollywood would handle the scandal.
Backstage, Mr. Brown said he felt the weight of his historic win.
"I stand up here holding this trophy. I hope another black actor will be up here holding this trophy not 75 years from now," he said.
He beat out Jason Bateman for Netflix's "Ozark," Freddie Highmore for ABC's "The Good Doctor," Bob Odenkirk for AMC's "Better Call Saul," and Liev Schreiber for Showtime's "Ray Donovan."
Other awards went to:
"Three Billboards Outside Ebbing, Missouri" for best motion picture, drama;
"Lady Bird," for best motion picture, musical or comedy;
Guillermo del Toro, best director, motion picture, for "The Shape of Water; and
Gary Oldman, best performance by an actor in a motion picture, drama, for "Darkest Hour."