'Tomorrow can be better'
Gov. Ralph S. Northam is sworn in as Virginia's 73rd chief executive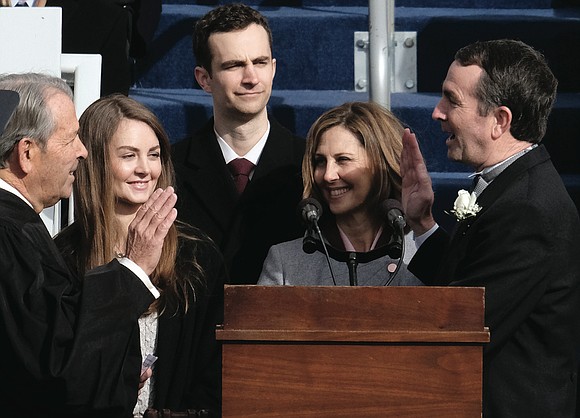 What is clear is that tough negotiations lie ahead.

And despite offering kind words about the new governor before and immediately after his inauguration and promising to work with him, Republican leaders already are blasting him as overly partisan.
Still, Gov. Northam told the inaugural audience that he would pursue Medicaid expansion and other legislative priorities with hope.
"Hope is not just a source of comfort for the afflicted. It is a wellspring of energy to fight for a better tomorrow, no matter the odds."
He said there is reason to fight. Despite the "incredible economic progress," plenty of Virginians still are not feeling the rewards.
"In far too many places in Virginia, our ZIP code determines not just how well you are, but how long you will live."
He cited Richmond data that shows that a child born 2 miles to the east of the State Capitol can "expect to live to about age 63, but a child 5 miles to the west of the State Capitol can expect to live 20 years longer. You don't have to be a doctor to know something is wrong."
He said, as in many cases, the solutions "are not easy," but are known and would require smart approaches creating connections to quality education, health care and good jobs.
Gov. Northam noted that Virginia's own complex history makes it the ideal place to find such solutions.
He noted that on a hilltop 15 blocks east of the Capitol, one of his predecessors as governor, Patrick Henry, helped launch the movement for American independence and freedom with his cry of, "Give me liberty or give me death." Yet at the bottom of the hill, one of the largest slave-trading markets in the country was coming alive as a place to buy and sell men, women and children.
His words about hope impressed many who came, such as Dionne Keith, 19, who said she felt "more hopeful" as she listened to the ceremony.
Daphne Mustaffa also was moved by what she heard and is excited to see what is to come with Gov. Northam in charge.
To find the way forward, Gov. Northam urged people to follow "their moral compass," just as he used a real compass when going out on the water as a youth to find his way home.
He said a "moral compass" is needed more than ever.
"It can be hard to find our way in a time when there's so much shouting, when nasty, shallow tweets take the place of honest debate and when scoring political points gets in the way of dealing with real problems."
In his view, "we are bigger than this."
The Democrat said he and his party do not have a monopoly on good ideas and said his guiding principles would include "telling the truth," willingly considering alternative views and working with all parties.
"The path to progress is marked by honest give and take among people who truly want to make life better for those around them," said Gov. Northam, who is the longtime volunteer director of a pediatric hospice in Norfolk and annually travels to a free clinic in Southwest Virginia to lend a diagnostic hand.