Director Ava DuVernay wins top award at NAACP Image Awards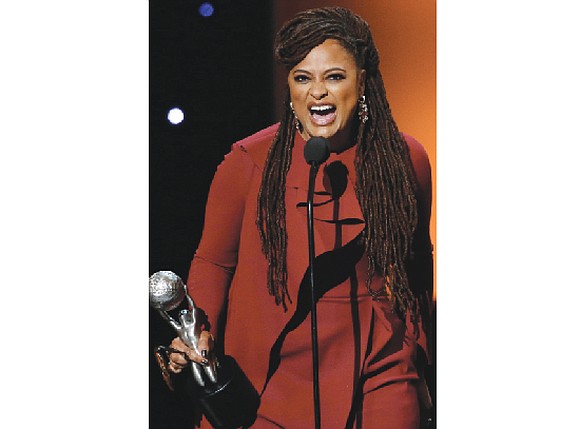 Associated Press
LOS ANGELES
A jubilant Ava DuVernay was named Entertainer of the Year at Monday night's NAACP Image Awards ceremony that focused on the black community's power to create change.
Ms. DuVernay lauded other black artists from the stage as she accepted her award, naming writers and directors such as Shonda Rhimes, Gina Prince-Bythewood, Kenya Barris and "Black Panther" Ryan Coogler.
"This is our time," Ms. DuVernay said. "We can say we were here when all this gorgeous art was happening, and that we supported it — that we lifted each other up, that we did as Dr. King said we would do: Live the dream. We're the dream."
Anthony Anderson hosted the ceremony at the Civic Auditorium in Pasadena, Calif., on what would have been Dr. Martin Luther King Jr.'s 89th birthday. While Mr. Anderson's politically tinged monologue poked fun at the presidential administration and Omarosa Manigault, others used their time on stage to encourage more civic involvement and the fight for social justice.
Producer Will Packer took a dig at President Trump's recent comments about immigration as the producer accepted an award for "Girls Trip," which won for outstanding film.
"Sisters, especially the ones from Haiti and Africa, we love you as your brothers," he said.
Kerry Washington, Tracee Ellis Ross, Laverne Cox, Jurnee Smollet-Bell, Lena Waithe and Angela Robinson set the tone for the evening when they emerged on stage holding hands to dramatically issue a get-out-the-vote call.
The six women declared support for the Time's Up initiative to stop sexual harassment and gender discrimination and urged viewers to speak up at the polls as well.
"The midterms are a perfect moment for us to use our voices," Ms. Robinson said. "If we can take back a senate seat in Alabama ..."
"Then we have the ability to shift the imbalance of power," Ms. Smollet-Bell said.
Ms. Barris' show "black-ish" was the night's big winner. The ABC hit was named best comedy series and took acting honors for stars Ms. Ross and Mr. Anderson.
"It's an extraordinary thing to be able to show what a beautiful black family looks like on television," Ms. Ross said as the cast accepted the comedy series honor.
"Power" was named best drama series, and star Omari Hardwick won for dramatic actor.
Other winners included "Gifted" actress Octavia Spencer and "Empire" star Taraji P. Henson, who were both absent, and Daniel Kaluuya, who won for his leading role in "Get Out."
The British actor was clearly delighted at his victory.
"I don't think you're allowed to beat Denzel Washington in acting competitions," said Mr. Kaluuya, who bested Mr. Washington for the prize. The 28-year-old actor thanked his mom and "Get Out" writer-director Jordan Peele.
"So many people didn't believe in me, and you did, and you made all of us feel included," Mr. Kaluuya said. "Thank you so much for letting us be seen."
National NAACP president Derrick Johnson asked viewers to text in their pledge to vote in 2018 before presenting the President's Award to Danny Glover.