Dr. King's work not finished
1/19/2018, 6:55 p.m.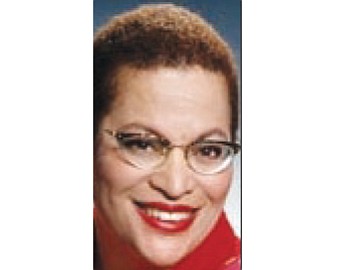 Julianne Malveaux
Dr. Martin Luther King Jr. didn't plan to get involved in the Memphis, Tenn., garbage workers' strike. He hadn't planned to be there on the fateful day when he was shot on April 4, 1968. But he was pressured to go the first time and found the garbage workers' strike compelling. He promised to return, and felt it important to keep his word, despite a packed schedule.
Memphis was so very important because the 1,300 black men who worked in the city's Sanitation Department were treated despicably. Two workers had been crushed in a garbage compactor in 1964, but the faulty equipment had not been replaced. On Feb. 1, 1968, two more men, Echol Cole, 36, and Robert Walker, 30, were crushed in the compactor.  
Mr. Cole and Mr. Walker were contract workers, so they did not qualify for workmen's compensation and had no life insurance. The City of Memphis paid $500 plus one month's pay for their funeral expenses. Mr. Walker's wife, Earline, was pregnant at the time of his death.
Memphis garbage workers were notoriously ill treated. They were poorly paid, at $1.60 an hour — the minimum wage — to $1.90 per hour. They were not paid overtime, even though they were often required to work more than eight hours a day. Their pay was so low that many held second jobs or received public assistance. They were not paid to work when there was inclement weather, like rain or snow. And their supervisors, mostly white men, were much better paid, no matter what the weather.  
After the deaths of Mr. Cole and Mr. Walker, garbage workers demanded better wages and working conditions and union recognition. The City Council agreed, but the racist, indifferent mayor, Henry Loeb, vetoed the City Council's action. The men went on strike on Feb. 11, 1968, and stayed out 64 days, until April 12.
Have we forgotten the poignant pictures of grown men carrying hand-lettered signs that said, "I Am A Man," and the irony of these hard-working men having to declare that which should have been perfectly obvious?  
Memphis' black garbage workers were not treated as men, but as disposable beings considered only useful for dealing with other people's rubbish.  
They weren't the only ones. Lots of black people, even after the passage of the Civil Rights Act of 1964, received unequal pay and thoroughly unacceptable terms and conditions of work.  The City of Memphis was violating national labor laws, but because those they demeaned were black people, nobody cared and nobody noticed until the garbage workers went on strike.
The Association of Federal, State, County and Municipal Employees, or AFSCME, is the union with which the Memphis garbage workers were affiliated. They have developed a campaign, "I AM 2018," that is focused on organizing and hosting a series of events to commemorate the strike, remember Mr. Cole and Mr. Walker and focus on the dignity of work.
The I AM 2018 campaign is needed now more than ever as worker dignity is constantly assailed. The federal Department of Labor seems to be on a campaign to rescind Obama-era rules that improve life for workers. For example, an Obama rule would require employers to pay four hours of wages to workers who are "on call" whether they are used or not.  
Why? Because if the workers are on call, they are tethered to the telephone and need to be paid for their time. 
Since 45 was elected, though, many have lined up to ask the Department of Labor to rescind the proposed rule. They say that the rule is too costly for corporations and businesses and that it will cost the nation jobs.  
Just as Dr. King stood with Memphis garbage workers, he now would stand with the I AM 2018 campaign and with the "on call" workers who can't get respect or compensation for their availability.  
We are still not finished with the work Dr. King started, not finished with the struggle for economic justice. We have yet to attain equality, yet to develop an economic agenda for shared prosperity, for workplace dignity and for human rights.
The writer is an author and economist.