William T. Stone Sr., former substitute judge, Williamsburg funeral home owner, dies at 87
1/26/2018, 12:46 p.m.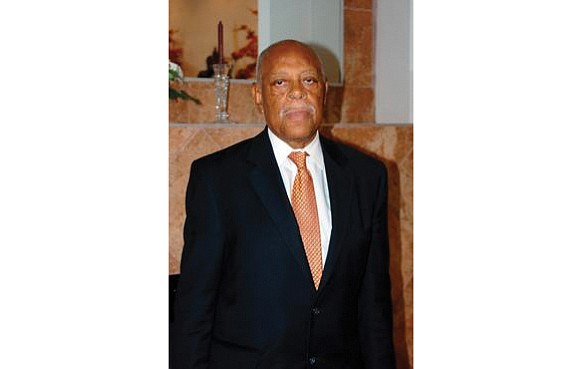 Ronald E. Carrington
William Thomas Stone Sr. made history in 1968, when he was one of the first African-Americans appointed to the judiciary in Virginia.
Admitted to the bar in 1962, Mr. Stone was appointed a substitute judge in Williamsburg and James City County in 1968. He presided over cases in general district court and juvenile and domestic relations court for 30 years.
Mr. Stone also was a licensed funeral director and owned Whiting's Funeral Home in Williamsburg, a business started in the 1930s by his aunt and uncle through which he helped thousands of families during their time of loss.
Mr. Stone, 87, died Thursday, Jan. 18, 2018. His life will be celebrated by family and friends during a funeral at noon Saturday, Jan. 27, at Williamsburg Community Chapel, 3899 John Tyler Highway in Williamsburg.
On Friday, Jan. 26, the family will receive friends from noon to 3 p.m. at First Baptist Church, 725 Scotland St. in Williamsburg, and from 5 to 8 p.m. at Whiting's Funeral Home, 7005 Pocahontas Trail in Williamsburg.
A graduate of Bruton Heights High School in Williamsburg, Mr. Stone earned an undergraduate degree from Central State College in Wilberforce, Ohio, in 1953, and then served in the Army in South Korea.
Upon returning to the United States, he attended mortuary school at the New England Institute of Anatomy, Sanitary Science and Embalming in Boston, earning a certificate in 1956.
While working in Washington, he earned a law degree from American University's evening division and began practicing law in Newport News and then Williamsburg in the early 1960s. Through his practice, he mentored other young lawyers who have gone on to successful law practices and judicial careers.
Mr. Stone was among several African-American judges in the South featured in a March 1971 article in Ebony magazine.
He resigned as a substitute judge in May 1998 after the State Bar publicly reprimanded him for failings in his private law practice.
He was a member of the National Funeral Directors and Morticians Association, the National Funeral Directors Association and was a member of the Virginia Board of Funeral Directors and Embalmers.
Mr. Stone also was a founding member of Omega Psi Phi Fraternity's Zeta Mu Mu Chapter in Williamsburg, where he was named Omega Man of the Year in 2008. He also was a member of the Masons and the Elks.
Survivors include his wife, Sara Cumber Stone; three sons, William T. Stone Jr. of Kennesaw, Ga., Michael R. Stone of Richmond, and Christopher D. Stone of Atlanta; a daughter, Jacquelyn E. Stone, a partner at McGuireWoods law firm in Richmond; a sister, Edna Stone of Steilacoom, Wash.; a brother, Horace Stone of Randallstown, Md.; six grandchildren; and one great-grandchild.