Joe Jackson was admired by some, detested by others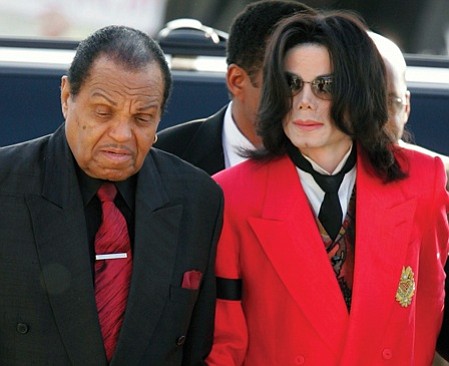 Marlon's twin, Brandon, died soon after birth.
Mr. Jackson put his own musical ambitions aside to work in the steel mills to support his wife and children and far surpassed his own dreams through his children.
Mrs. Jackson would sing around the house and that was cited as a crucial musical influence by her budding talented children.
As the family grew to nine children, Mr. Jackson came to realize the truly gifted musicians in his family were his children. They all occupied a tiny house on, as fate would have it, Jackson Street.
Mr. Jackson launched his first family group in 1962 featuring Jackie, Tito and Jermaine and two neighbors. The neighbors were eventually replaced with brothers Michael and Marlon and The Jackson 5 went professional in 1966.
The Jackson 5, fronted by Mr. Jackson's exceptionally gifted seventh child, signed to Motown by 1969 and their bubble gum soul-pop hybrid created a Beatle-like mania for American teenagers, with hits including "I Want You Back," "ABC" and "I'll Be There."
This became the first phase of superstardom for the Jackson family. At the height of their stardom, The Jackson 5 sold millions of records and had their own variety show.
Mr. Jackson, the unlikely star maker demanded nothing less than perfection as he drove his children toward stardom. To a remarkable degree, he succeeded.
"We'd perform for him and he'd critique us. If you messed up, you got hit, sometimes with a belt, sometimes with a switch. My father was real strict with us — real strict," Michael Jackson wrote in his 1985 autobiography, "Moonwalk."
Randy Jackson, the youngest Jackson brother, replaced Jermaine in the mid-1970s when the group left Motown and became The Jacksons at CBS and Jermaine, then married to founder Berry Gordy's daughter Hazel, stayed behind and launched a solo career.
Over the following decades, millions would listen to both group and solo recordings by The Jackson 5 and The Jacksons as Michael began his climb to becoming one of the most popular entertainers in history.
Janet Jackson, the youngest daughter behind Rebbie and LaToya, became another multiplatinum superstar.
Joe Jackson initially managed her career, too, putting her in the Jacksons' variety show in the early 1970s, where she charmed with her Mae West routine, and shepherding her acting career on shows like "Good Times."
But soon after she put out "Control," her breakthrough album at 19, Miss Jackson severed managerial ties with her father.
All nine of the Jackson family children had a hand in producing major hit records, and Michael Jackson would become the most popular recording artist of the 1980s.
"Papa Joe," as he would become known, ruled through his stern, intimidating and unflinching presence, which became so indelible it was part of black popular culture, even referenced in song and on TV.
Mr. Jackson's success in guiding his children's early careers led to a star-studded social lifestyle.

However, by the time the Jackson children became adults, most of the siblings had dismissed their father as their manager.