Personality: Nichole L. Gross
Spotlight on Henrico County Public Schools' Gilman Teacher of the Year
7/6/2018, 5:31 p.m.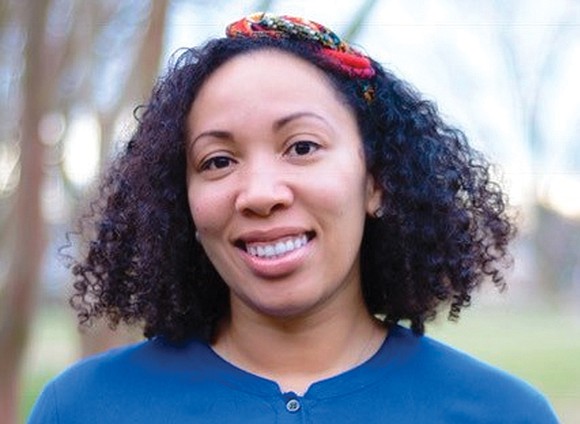 Being an educator can be physically and emotionally draining, says Nichole L. Gross, a Henrico County Public Schools teacher.
"If you're not tired by the end of the day, you are not doing your job," Ms. Gross firmly believes.
The eighth-grade English teacher at Fairfield Middle School should know. She recently was named Henrico County Public Schools' Gilman Teacher of the Year. The award is presented to educators who excel in the classroom and build strong relationships in the community.
Ms. Gross' success in the classroom doesn't stop when the school day ends. It is not unusual for her to not only spend time in her students' communities, but to also coordinate fundraisers for children in Flint, Mich., or assist with water relief efforts in areas such as South Sudan.
Despite the countless hours she spends teaching, mentoring and volunteering, Ms. Gross, 37, says she was surprised when she learned that she was one of five finalists for the Gilman award.
"I was completely shocked when I was announced as the Teacher of the Year for the entire county," says Ms. Gross, who worked in information technology before joining Fairfield 10 years ago. Her passion for improving literacy in underprivileged communities inspired her teaching career.
One might also say that teaching is part of her DNA in that her grandmother, Ethelene Coleman, was an English teacher in Brunswick County, Va.
"I never met my grandmother," Ms. Gross says. "And people who knew her or who had my grandmother as their English teacher have told me that my writing was so much (like) hers and how great she was as an educator."
But that wasn't the only education-minded person in Ms. Gross' family. Her grandfather raised her father, Michael Gross, to read a newspaper every single day. That habit was passed down to Ms. Gross' household, where literacy was always at the forefront.
"I'm thankful now to be able to give other children the same opportunity for which I have a passion," she says.
Ms. Gross grew up in Washington, D.C. Her father formerly taught at Houston Elementary School, and also managed youth programs in public housing communities. He now directs a shelter for homeless people in Northern Virginia.
Her passion for teaching reading in underprivileged communities began at age 16 while assisting her father in his public housing programs.
She created her own reading program through a youth summer employment program.
"My dad gave me that experience from the beginning, and it helped me along my journey to becoming an educator and (learning) the importance of building relationships," Ms. Gross says.
Her human relations skills were among reasons that Ms. Gross' faculty peers nominated her for Teacher of the Year at Fairfield Middle School, which was the beginning of her road to Henrico County's Teacher of the Year.
"As a teacher, I try to build a relationship with all of my students and I spend a lot of time outside of the classroom doing volunteer work and going into the community," Ms. Gross says.