Henrico's Varina District poised to elect 1st African-American female to county School Board
George Copeland Jr. | 10/31/2019, 6 p.m.
The Henrico County School Board is set for a historic new addition with next week's election — its first African-American female member.
Four African-American women are running for the open seat in the Varina District —Alicia Atkins, Joyce L. Davis, Michelle Roots Henderson and Kandise N. Lucas.
They are seeking to replace John W. Montgomery Jr., the board's chair, who is stepping down after serving three terms on the board.
Ms. Davis lost to Mr. Montgomery in a three-way race in 2007.
While the four campaigns have garnered a fair number of donations, the policies and proposals each candidate has advocated online and as they campaign door to door are the true focus of the race.
Ms. Atkins, tapping into her experience as a volunteer with the PTA and Meals on Wheels, has promised greater engagement if elected. Her campaign slogan is "Let's FACE the Future Together," with FACE meaning exploring the facts, taking action, inspiring change and ensuring quality education for Henrico students. She said if elected, she will review the factors affecting student achievement, develop and implement solutions to identified problems and building positive, healthy relationships between students, their families and their community that enable students to learn and grow.
Ms. Davis, a policy analyst, former educator and political ad- viser, has pledged "to build on the accomplishments and work that has been undertaken" by the School Board if she is elected. This includes allocating funds for initiatives to increase the number of accredited schools in the Varina District, building partnerships with organizations and businesses for programs that help students succeed in school and beyond, and supporting strategies aimed at ensuring school safety, lower suspensions and competitive compensation that brings and keeps quality teachers in Varina.
Ms. Henderson points to her experience as a teacher for more than 20 years and as a member of the Henrico County of Social Services Board as evidence of her qualifications and dedication to the district. She has promised increased resources to support students and teachers — from classroom assistants to greater at- tention on mental health care for students. She advocates for equity for schools in the Varina District in an effort to remove one of the "many obstacles and hurdles" children face in life.
Ms. Lucas, a former special education teacher, has had a conten- tious relationship with the Henrico School Board for years. She has clashed with the board in her roles as a parent and a special education advocate, fighting what she said are discriminatory policies that harm children.
She has called for greater accountability in operating the school system's budget and floated the possibility of initiating career development for students in elementary school rather than waiting for middle or high school. She also has pledged to create a tutoring strategy to ensure that children from families unable to pay for private tutors still get the educational help they need.
Candidate profiles: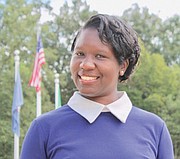 Alicia Atkins
Address: P.O. Box 7588, Henrico, Va. 23231
Age: 43
Education: I am a proud graduate of Highland Springs High School. Associate degree in business administration, California Coast University, then pursued bachelor's in health care administration.
Occupation: I have more than 10 years of experience in health care administration, working in sales and account management. Also, I am currently a trainer for Virginia Commonwealth University's Leadership for Empowerment and Abuse Prevention Program
Civic/community Activities: Meals on Wheels; Henrico County Public Schools Curriculum Transformation in High School Committee,
Email: aliciaforvarina@g...
Telephone: (804) 836-3201
Website: aliciaforvarina.com