Personality: Nichole L. Gross
Spotlight on Henrico County Public Schools' Gilman Teacher of the Year
7/6/2018, 5:31 p.m.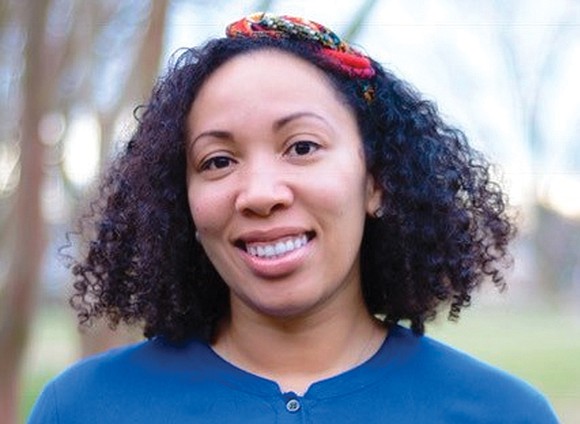 She also attends high school football games and events in her students' communities.
Ms. Gross believes that every child, notwithstanding their socioeconomic situation or physical or mental capacity, has the ability succeed academically and live out their dreams.
"I get a great sense of accomplishment and pride in the children I teach because I don't have children of my own," she says. "My students are my children. It is my job to seek out ways to help each of my students in achieving success and growth."
Meet this week's Personality and award-winning educator, Nicole L. Gross:
Occupation: Eighth-grade English teacher and athletic director, Fairfield Middle School in Henrico County.
Community involvement: Represented Fairfield Middle School at several community events such as National Night Out; volunteered at the Annual Walk for Lupus in Richmond (2013 – 2017); volunteered for the Annual Thanksgiving Dinner/Coat & Clothes Giveaway in Richmond (2009 – 2017); sponsored a weekend trip to the Virginia Children's Book Festival that allowed several of my students to meet various authors in 2017.
Date and place of birth: Feb. 7 in Charlottesville.
Current residence: Richmond's Highland Park neighborhood.
Alma maters: Capella University, master's in education with a specialization in reading and literacy, and Virginia State University, bachelor's in English.
First reaction to top teacher award news: I was already surprised when I was told I was one of the five finalists and completely shocked when I was announced as the Teacher of the Year for the entire county.
How I got the news: It was announced at the large HCPS Gilman Awards Ceremony in May 2018.
Foremost reward of teaching: My greatest reward in being a teacher is celebrating every success of each of my students, no matter how big or small.
Foremost challenge: I work really hard at building and maintaining strong and meaningful relationships with my students, so my greatest challenge is in practicing self-care. I have to remember to take care of myself emotionally and physically.
What I do to engage my students: I constantly seek ways to make learning as relevant for my students as possible, whether it be through literature or something like creating grammar-related lyrics to popular songs.
Advice to aspiring teachers: When you become a teacher, make it your business to build relationships with each of your students and keep your expectations high for each of them. When kids know that you genuinely care, they will work hard to meet your expectations.

Role of parents in learning process: Parents are crucial to the learning process, especially when it comes to literacy.
Biggest problem facing students today: One of the primary issues I see in education has to do with the cultural obstacles that have been preventing key intervention strategies from closing the achievement gaps.
What needs to be done: I believe that one of the most important strategies for dismantling inequitable school practices that contribute to racial and gender inequity is to address professional attitudes, values and beliefs.  As an instructional leader, I think it is important to provide staff development (programs) that address and develop these dispositions, as well as confronting prejudices and stereotypes. Although there are many teachers who are highly knowledgeable about academic content, there are also many who do not have the experience or cultural sensitivity necessary to promote and develop educational environments that are equitable and inclusive. Cultural competence is an important factor in being able to make learning relevant and achievable for all students.