World Cup tackles color complex
Fred Jeter | 7/6/2018, 4:29 p.m.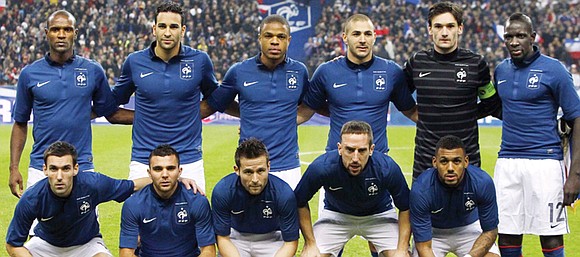 France won its only World Cup in 1998 with the theme "Black-Blanc-Beur," meaning black, white and Arab (or North African)," a slogan celebrating integrated France.
This year's French entry into the 2018 World Cup in Russia is all that, and then some, as the highly diverse team advances to quarterfinals against Uruguay on July 6.
Of 14 players to take the pitch through three group games and one Knockout Round, nine are from Africa, the French Caribbean, or have parents from those locales. 
Two shining brightest are Kylian Mbappe and Paul Pogba.
Mbappe's father is from Cameroon and his mother is from Algeria.
In France's quarterfinal 4-3 win over Argentina on June 30, Mbappe, 19, became the youngest to score two goals in a World Cup Knockout Round since 17-year-old Pele did so for Brazil in 1958.
Pogba, 25, of Guinean parents, is an attacking central midfielder who ranks among the world's elite players.
France is cheering now but the multicultural makeup of the national squad has at times sparked controversy.
Although nonwhite players have represented the French national team since 1931, there have been cries from far-right groups that some athletes weren't "genuinely" of French descent.
In 2011, senior officials in the French Football Federation (FFF), including National Coach Laurent Blanc, backed plans for a 30 percent quota for nonwhite players qualifying for advance training by age 13, according to Mediapart, a French investigative news website.
Both the FFF and Coach Blanc later denied those reports, stating that meetings were more about "style of play" than color. Coach Blanc has since been cleared of any violations.
The current roster is as diverse as they come, with athletes who have ancestral links to Martinique, Cameroon, Guinea, Togo, Mali, Mauritania, Angola, Algeria and Congo.
It's a rare blend, but the bouncing soccer ball doesn't stop to distinguish color or race, and France's "Black, Blanc, Beur" may be just the spicy recipe for a second World Cup trophy.