International player making a difference for the Rams
2/10/2017, 9:25 p.m.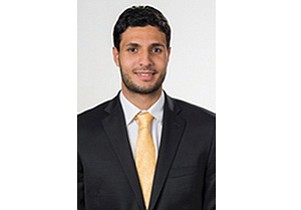 Considering its notable track record with global recruiting, the "U" in VCU might stand for "Universal."
Egyptian native Ahmed Hamdy-Mohamed is the current international athlete making a difference for the Rams.
The 6-foot-9, 240-pound senior from Egypt's port city of Alexandria has made his mark as a scorer, rebounder and inside defender coming off the bench for Virginia Commonwealth University Coach Will Wade.
In six games from Jan. 11 to Feb. 1, Hamdy-Mohamed  averaged 10 points and seven rebounds while hitting 19 of 33 mostly power inside shots (58 percent) from the field.
Hamdy-Mohamed enjoyed double-doubles against Davidson University (13 points, 10 rebounds) on Jan. 14 and LaSalle University (13 points and 11 rebounds) on Jan. 22.
He narrowly missed a third double-double with 12 points and eight rebounds in the Rams' pivotal 73-68 victory Jan. 27 over the University of Dayton.
The Rams improved to 18-5 overall and a league-leading 8-2 in the Atlantic 10 Conference following VCU's 88-77 overtime win at St. Bonaventure University on Saturday, Feb. 4.
Hamdy-Mohamed transferred to VCU last year from Lee College, a two-year school in Baytown, Texas. He is among the few Egyptians playing NCAA Division I basketball. Another Egyptian of note is 7-foot Anas Mahmoud, a leading shot blocker at University of Louisville.
The lone Egyptian to play in the NBA was Alaa Abdelnaby (1990-1994) following a collegiate career at Duke University.
Hamdy-Mohamed is the Rams' first Egyptian player, but far from its first international import. Promising freshman Marquell Fraser hails from Hamilton, Ontario.
Here is a review of some international athletes who left their mark on VCU:
• Martin Henlan (from England, 1987-1990): The 6-foot-10 Brit was a two-year starter under Coach Mike Pollio; set the rebounding record at the Hoosier Classic.
• Yann Bonato (France, 1991): Never clicked with Coach Sonny Smith, but went on to play for France in the 2000 Olympics in Sydney, Australia.
• Konstantin Pepeliaev (Soviet Union, 1991-1993): Tallest ever Ram at 7-foot-2; later coached girls basketball at Steward School.
• Eugene Kissourine (Russia, 1992-1993): Averaged six points and six rebounds as a junior but, mysteriously, didn't return for his senior season.
• Sherman Hamilton (Canada, 1995-1997): Point guard on the Rams' 1996 CAA championship squad; later played for Canada in the 2000 Sydney Olympics.
• Patrick Kodjoe (Germany, 1997-2000): Played under Coach Smith; brother of VCU Hall of Fame tennis player Boris Kodjoe.
• Reggie Okosa (Nigeria, 1998-2000): Had two solid seasons as a Ram before transferring to LaSalle University.
• L.F. Likcholitov (Russia, 1998-2002): The 6-foot-11 southpaw had a career total of 211 blocked shots. For the 2000-2001 season, Likcholitov was joined on the Rams roster by fellow Russians Alexander Shtam, Kontantin Nesterov and Denis Orlov.
• Nick George (England, 2002-2006): Tallied 1,546 career points and helped the Rams win the 2004 CAA title under Coach Jeff Capel III.
• Wil Fameni (Cameroon, 2006-2008): After transferring from Arizona State, he was the Rams' center on the team that upset Duke University in the 2007 NCAAs under Coach Anthony Grant.
• Franck Ndongo (Cameroon, 2006-2009): During his career with the Rams, he arranged for sister Christelle to come to Richmond; Christelle  played at St. Catherine's under ex-Ram great Edmund Sherod.
• Kirill Pishchalnikov (Russia, 2007-2010): Under Coach Shaka Smart, he helped the Rams to two CAA titles and played in the NCAAs against UCLA.