VCU has rare loss at home — to U.Va.
Fred Jeter | 11/24/2017, 2:28 p.m.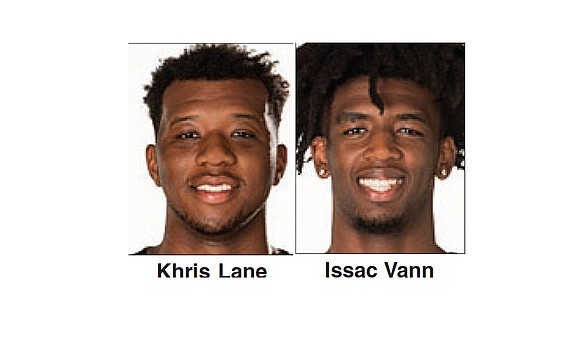 Two things Virginia Commonwealth University basketball thrives on are quality transfers and home games at the always rowdy, jam-packed Siegel Center.
The Rams are loaded with both in Coach Mike Rhoades' maiden season.
Khris Lane and Issac Vann are the latest examples of experienced transfers from NCAA Division I programs.
Lane is a 6-foot-7, 245-pound power forward who transferred to VCU from Longwood University. Through three games, Lane averaged 13.3 points and 5.7 rebounds.
Vann is a 6-foot-6, 210-pound wing who transferred from the University of Maine. In Vann's first three games as a Ram, he has averaged 14.3 points and six rebounds.
Vann had a team high 19 points in VCU's 76-67 loss last Friday to the University of Virginia at the Siegel Center.
Both Lane, a graduate transfer, and Vann, a red-shirt sophomore, were leading scorers at their former schools.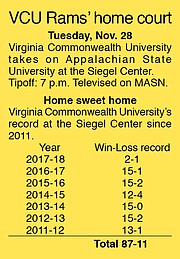 An advantage in transferring to VCU is playing at the Siegel Center, where the Rams have enjoyed 102 straight sellouts. The home loss to U.Va. was an anomaly.
With just five turnovers, the Cavaliers smoothly navigated VCU's trademark barracuda-style defense and, offensively, coolly drilled 10 3-pointers.
Other VCU non-conference "guests" aren't nearly so fortunate. Since its 2011 Final Four run, VCU is 87-11 on its home boards at the Siegel Center, with two of those losses to U.Va.
Clearly, VCU administrators know a good thing when they spot it and intend to keep stirring a winning formula. Of the Rams' first 14 games this season, they will play only one true road game — at Seton Hall University on Jan. 9. The game is part of the Never Forget Tribute Classic honoring the late Jim Valvano, former coach at North Carolina State University, with a double-header format.
Based on its continued success, VCU is in an enviable position of scheduling home games and not having to reciprocate by playing that same school on their campus. This is done by offering financial guarantees — sometimes called "buy games."
That doesn't mean the Rams won't travel, but they do so under their terms. The Rams played three top-tier opponents earlier this week in the Maui Invitational on a neutral floor.
Once Atlantic-10 Conference play commences, the Rams' schedule is balanced between home and away contests.
Transfers have a rich history at VCU.
In the program's infancy in the late 1960s and early 1970s, four African-American transfer players helped lift VCU basketball from little more than glorified intramurals to Division I status.
Those transfer players included two Richmonders, Charles Wilkins who transferred from Fayetteville State University and Don Ross, who transferred from Cleveland State. The others were Charles Chambliss, a transfer from Loyola University Chicago, and Charles Booker from Glassboro State College.
More recently, Jamie Skeen, a transfer from Wake Forest University, spurred the Rams' Final Four run in 2011, and Korey Billbury, a transfer from Oral Roberts University, was a leading light on the Rams' 2016 squad. Ahmed Hamdy-Mohamed, a transfer from Lee College in Texas, was a key player the past two years.
Two things don't figure to change at VCU. The Rams will continue scheduling as many home games as they can, and the porch light will be left on for gifted late arrivals.
Waiting in the wings now is Marcus Evans, the leading scorer last year at Rice University. Evans becomes eligible to play in 2018-19 after sitting out this season under NCAA transfer rules.