VCU Rams jostle the crowns of basketball royalty
Fred Jeter | 11/25/2015, 9:34 p.m.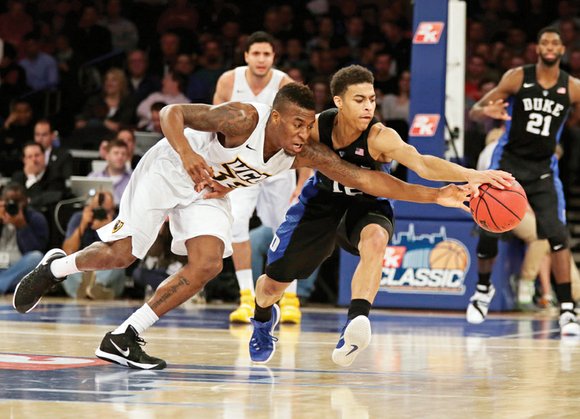 Native New Yorker Melvin Johnson wasn't about to get blinded by the lights on arguably college basketball's brightest stage, Madison Square Garden. 
The Virginia Commonwealth University senior marksman from St. Benedict's Prep in the Bronx was brilliant despite the Rams' excruciating losses to juggernauts Duke University and the University of Wisconsin at last week's 2K Classic in New York City.
The 6-foot-4 Johnson had 20 points in the 79-71 loss to Duke on Nov. 20 and another 21 points in a 74-73 setback to Wisconsin on Nov. 22. He was a combined 6-for-10 from behind the three-point arc.
In both outings, the Rams held halftime leads and were in control well into the second half.
Last season, Duke defeated Wisconsin in the NCAA finals.
Last weekend under first-year Coach Will Wade, the Rams went toe-to-toe with basketball royalty and at least jostled their crowns.
VCU led Duke 45-40 four minutes into the second half.
In the game against Wisconsin, the Rams led by one point with five seconds left when Wisconsin's Bronson Koenig broke VCU's hearts with a game winner.
Johnson is not alone among Rams stars.
Newcomers Korey Billbury, a senior transfer from Oral Roberts University, and Ahmad Mohamed Hamdy, a 6-foot-9 native of Egypt, sparkled at Madison Square Garden before a national television audience. The VCU-Duke game drew a crowd of 18,838. The VCU-Wisconsin game was before 17,287 fans. 
Billbury, aka "Mr. Bill," had 17 points and three steals against Wisconsin. Hamdy contributed 13 points and eight rebounds against the Badgers.
All in all, it appears "Havoc" lives at VCU under Coach Wade, a former Rams assistant coach under "Havoc" creator Coach Shaka Smart, who is now at the University of Texas.
The ever-pressing, tempo-pushing Rams forced Duke into 14 turnovers and Wisconsin into 17.
Johnson, already with 13 three-pointers through four games this season, has his shooting eye on the university's records from beyond the three-point arc. The New Yorker started this week with a career record of 188 triples, 86 of which were from last season.
The Rams career three-pointers record is held by B.A. Walker with 269. Troy Daniels, who now plays for the Charlotte Hornets, holds the season record with 124.
•
VCU's next foe is a familiar one — Old Dominion University in Norfolk.
The Rams will host the Monarchs on Saturday, Nov. 28, with CSN-MA televising the Siegel Center tip.
VCU holds an all-time 47-43 edge over ODU, but the Monarchs prevailed in last year's match in Norfolk.
ODU has strong University of Virginia ties.
Head coach Jeff Jones is a former player and head coach at U.Va., and his assistants include Lawrenceville native Bryant Stith, U.Va.'s all-time scorer.
Stith has two sons on the Monarch's roster — Brandon, who is currently eligible, and B.J., who is being redshirted after transferring from U.Va.
The rivalry between VCU and ODU started in 1949 when VCU was called Richmond Professional Institute. ODU was 31-8 over RPI from 1949 to 1968.
ODU maintains that its former star, Arthur "Buttons" Speakes, was the first black player at a majority white university in Virginia.
From Huntington, W.Va., Speakes began his ODU career in 1965. In 1968, he scored 67 points against RPI – a school record still standing.