VCU Rams locked out of NCAA by A-10 loss
3/16/2018, 7:54 a.m.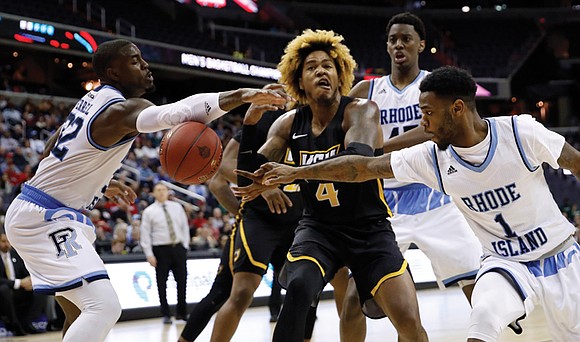 The big story individually this basketball season at Virginia Commonwealth University was the forceful showing by All-Atlantic 10 senior Justin Tillman.
The big story next year may be who will replace him.
Averaging 19 points and 10 rebounds, the 6-foot-8 Detroit native collected 18 double-doubles, matching the most by a Rams player since Bernard Hopkins in 1996. Tillman also made the A-10 All-Defensive team.
Tillman battled to the final horn, scoring 23 points and grabbing 15 rebounds in the Rams' 76-67 loss to the University of Rhode Island in the A-10 Tournament quarterfinals last Friday in Washington.
The Rams finished a disappointing 18-15 in Coach Mike Rhoades' first season, failing to snare a NCAA Tournament bid for the first time since 2010.
VCU was not selected as a NCAA at-large entry or to play in the National Invitation Tournament, and chose not to pursue one of the lesser tournaments. Instead, the focus is on preparing for the 2018-19 season.
Barring further additions, Tillman's low post successor would seem to be Marcus Santos-Silva, a 6-foot-7, 260-pound freshman who saw limited duty, or 6-foot-9, 200-pound junior college recruit Corey Douglas.
Douglas averaged 13 points, eight rebounds and three blocked shots this season at Tallahassee Community College.
Originally from Louisville, Douglas prepped at Fork Union Military Academy before playing as a freshman under Coach Rhoades at Rice University. He transferred to Tallahassee when Coach Rhoades left Rice for VCU.
Missing link: Perhaps what hurt VCU the most this season was the absence of adequate back-up for Tillman in the paint.
The Rams' depth was diminished when 6-foot-10 Abdel Hamdy left to become a graduate transfer to Texas Christian University.
Hamdy has been the key man this winter for the TCU Horned Frogs of the Big 12 Conference. The team qualified for the NCAAs.
Rice East: Should Douglas evolve as a regular, VCU could have two former Rice Owls' starters in next season's lineup.
The other is guard Marcus Evans, who earned All-Conference USA honors at the Houston school while averaging about 20 points per game.
Evans, from Chesapeake, sat out this season at VCU after transferring, and will have two years of eligibility. Reports are encouraging that he has fully recovered from Achilles surgery.  
Flip the script: This season, the Rams hosted the University of Virginia, the University of Texas and Old Dominion University at the Siegel Center. It gets tougher next season as VCU travels to those destinations.
In A-10 action, VCU was host to heavyweights Rhode Island, St. Bonaventure and Davidson. Next season, the Rams must travel to those schools.
Also in 2018-19, VCU is to play in the Legends Classic in Brooklyn, N.Y., with the likes of St. John's, Temple and California.
Looming also is a home-and-away series with Louisiana State University; details are to come.
Rams en route: At least on paper, Vince Williams is the crown jewel of Coach Rhoades' first freshman class. The 6-foot-5 wing from Toledo, Ohio, is a leading contender for Ohio Mr. Basketball while playing at one of the state's top programs, St. John's Jesuit High School and Academy.
Other freshmen on the way are 6-foot-4 KeShawn Curry from Jacksonville, Fla., and 6-foot-1 P.J. Byrd from Houston. Curry is prepping this year nearby at Fork Union Military Academy.
Numbers game: Now we get to the shady side of college hoops. Schools are allowed 13 scholarships.
VCU loses three seniors — Tillman, Jonathan Williams and Khris Lane — and already has four players coming in. That means someone — or more likely a few players — will have to go.
With the season over, Coach Rhoades can devote his full energy to recruiting high school players and looking for college transfers. Scholarships are only good for one season at a time, underscoring the "big business" nature of the sport.