VCU Rams readying for high-profile game against Rhode Island Rams
2/2/2018, 7:01 a.m.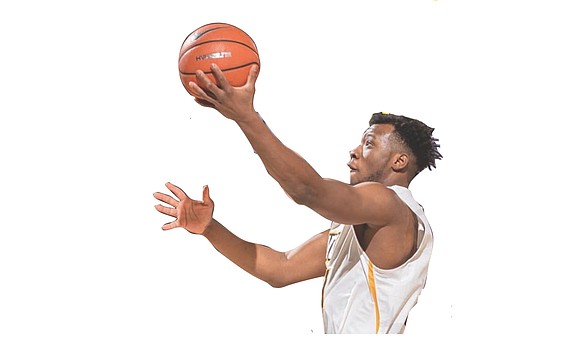 Rams versus Rams, and Rhoades versus Rhode Island are two ways to bill Virginia Commonwealth University's next high-exposure basketball opportunity.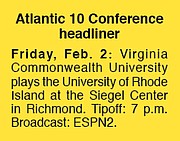 VCU first-year Coach Mike Rhoades has a chance to register his first signature victory when the 14th-ranked University of Rhode Island comes to the Siegel Center on Friday, Feb. 2.
Tipoff is set for 7 p.m. in a game that will either keep the VCU Rams somewhat alive in the Atlantic 10 race or will allow the visiting Rhode Island Rams to run away with the regular season crown.
VCU has won three straight games and is 14-8 overall. The VCU Rams also are 6-3 in the A-10 following an 84-76 victory at George Mason University last Saturday.
Senior graduate transfer Khris Lane was brilliant at George Mason, collecting career highs of 25 points and 12 rebounds.
Lane is in the midst of his only VCU season after transferring from Longwood University. The 6-foot-5 forward played locally at Meadowbrook High School, Trinity Episcopal and Benedictine.  
Justin Tillman, a leading candidate for A-10 Player of the Year, added his 11th double-double of the season, scoring 18 points and snagging 11 rebounds at George Mason's expense. The always assertive 6-foot-8 senior from Detroit averages 18 points and 10 rebounds per game.
Rhode Island is 17-3 overall and 9-0 in the A-10. The New Englanders boast a 10-game winning streak after overcoming a 15-point deficit to nip Duquesne University 61-58 last Saturday in Kingston, R.I.
The Rhode Island Rams feature two of the A-10's elite athletes in Jared Terrell, a 6-foot-3 senior guard from Boston averaging 18 points, and 6-foot-5 E.C. Matthews, a senior from Detroit, averaging 14 points.
In addition to being ranked 24th in the Associated Press' Top 25, the Rhode Island Rams have a No. 8 RPI power ranking and No. 34 strength of schedule.
By contrast, VCU has an RPI of 96 and strength of schedule of 115. The VCU Rams, under Coach Rhoades, have yet to knock off a team perceived to be on a higher tier.
VCU has 14 victories under Coach Rhoades, but have fallen short in bold-letter games with Marquette University and the University of Michigan on neutral courts, at Seton Hall University and at home against the University of Virginia and the University of Texas.
Rhode Island might provide VCU with its last chance to earn national headlines before the postseason.
Rhode Island defeated VCU twice last year, 69-59 in Kingston, R.I., and then 70-63 in the A-10 Tournament finals in Pittsburgh.
On Friday, VCU surely will benefit from a roaring, partisan sold-out crowd of 7,637 that thrives on making life miserable for visiting teams at the Siegel Center.
Expect VCU Rams fanatics, hungry for something special, to display "Rhoades rage" in trying to cheer their team to victory. 
•
You might say the VCU Rams and Rhode Island Rams are "kissing cousins" regarding their nicknames.
Rhode Island has been called the Rams since the early 1900s. One of its alumni, Ed Allen, became VCU's coach and athletic director in 1950 when the university then was called Richmond Professional Institute.
In 1963, Coach Allen — acknowledging his Rhode Island pride — ordered new uniforms and changed the school's mascot from the Green Devils to the Rams, the same as his alma mater.
At the time, Rhode Island was an established NCAA Division I member and VCU had a very low-key program under the umbrella of the NAIA. Mr. Allen, now a member of the VCU Hall of Fame, never dreamed the two teams would meet on the court.