Justin Tillman leads Rams to overtime win over Dayton
Fred Jeter | 2/17/2018, 8:43 a.m.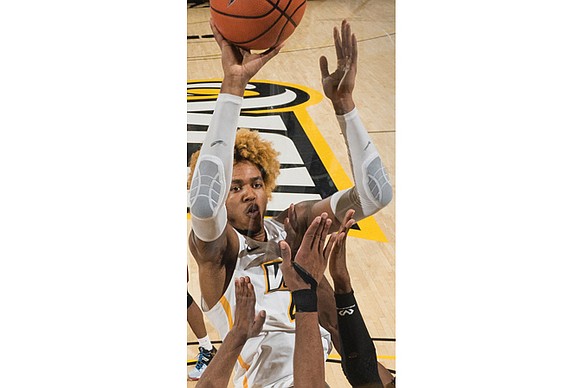 Virginia Commonwealth University basketball Coach Mike Rhoades says the Rams' motto this season is "it takes what it takes."
Often that means it "takes" a heavy load carried by Justin Tillman, who continues to place his name among the Rams' all-time performers.
The 6-foot-8 senior from Detroit was 17 for 25 from the field and scored 37 desperately needed points in the Rams' 88-84 overtime win Saturday, Feb. 10, over the University of Dayton before the 114th straight sold out crowd at the Siegel Center in Richmond.
"That was unbelievable effort," Coach Rhoades said of Tillman. "He's so darn competitive. We're glad to have him on our team."
Dayton had gone on a 16-1 run in the final minutes of regulation to send the game into overtime. Under Coach Anthony Grant, a former VCU Rams coach, the Flyers carried all the momentum into the extra 5-minute period.
Refusing to lose, Tillman added seven of the team's nine points in overtime to help the Rams escape with a 15-10 overall record and 7-5 Atlantic 10 Conference record.
"Normally, the team with momentum has the edge in OT," said Coach Rhoades. "But we had Justin. That was our edge."
Tillman's huge game, including eight rebounds, sent statisticians scurrying to the record book.
His 37 points are the most by the Rams since Willie Taylor had 38 points against Hampton University in 2002.
Tillman's 17 field goals are the second most ever by the Rams, behind only Chris Cheeks' effort of 18 against Old Dominion University in 1989.
Coach Rhoades said Tillman was just as valuable defensively with his relentless, bouncy, long-armed intimidation in the paint. He was credited with two blocks but changed the flight pattern of numerous inside misses.
"Justin cleaned up around the rim. He made them miss a lot of shots. That was the difference," Coach Rhoades said.
Last Saturday's game marked the 13th occasion this season that Tillman, known as the "Motor City Mauler," has scored at least 20 points in a game.
Overall, he averages 19.2 points and 9.4 rebounds, while hitting 57 percent from the field and leading the squad with a team-high 24 shots blocked.
With the University of Rhode Island the runaway leader for the A-10 regular season crown, VCU is among a covey of teams vying for a tournament bye. The top four teams earn a bye at the A-10 Tournament that runs March 7 through 11 at Capital One Arena in Washington.