VCU opens March 12 in Atlantic 10 Tournament
Fred Jeter | 3/12/2015, 5:03 a.m.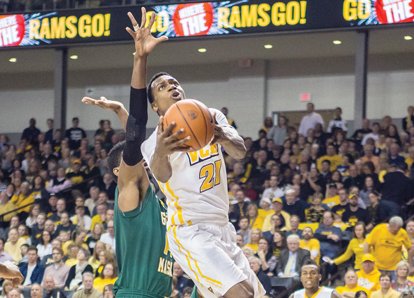 The chase is on as Virginia Commonwealth University heads to Brooklyn, N.Y.
VCU is trying to run down its first Atlantic 10 basketball title, while Rams senior Treveon Graham remains in pursuit of the university's all-time scoring record. The more the Rams win, the greater Graham's chances.
VCU, 22-9, opens A-10 tournament play 2:30 p.m. Thursday, March 12, against the play-in survivor between George Mason and Fordham universities.
A Rams victory would advance VCU to the quarterfinals 2:30 p.m. Friday, March 13, against a University of Richmond Spiders outfit that has defeated them twice this season.
Brooklyn's Barclays Center has been bittersweet for the Rams. They're 4-2 overall in conference tournaments but have been denied the top prize.
VCU lost in the final — to St. Louis University in 2013 and St. Joseph's University last year — in each of its first two seasons in the conference.
Graham, who missed three games with a sprained ankle in February, had 23 points — 17 in the first half — as VCU closed its regular season with a 71-60 win over George Mason on March 7.
The 6-foot-6 forward travels to Brooklyn with 1,803 career points in 135 games.
Ahead of him are Kendrick Warren (1,858 points in 106 games from 2005 to 2009) and Eric Maynor (1,929 points in 130 games from 1990 to 1994).
The record of Warren, who now coaches at Thomas Jefferson High School in Richmond, is within reasonable range.
Graham would need four productive games in New York, plus at least a couple of NCAA dates, to catch Maynor, who now plays pro ball in Varese, Italy.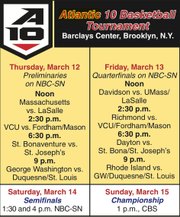 VCU's win over George Mason before a 66th straight sellout at the Siegel Center broke a three-game losing streak, the longest in Coach Shaka Smart's six seasons.
The Rams are assured a fifth straight NCAA bid.
VCU went to the "Big Dance" four times under Coach J.D. Barnett, twice under Coach Anthony Grant and once each with Jeff Capel and Sonny Smith as coach.
The Rams reached the Final Four in Coach Smart's second season, in 2011.
Despite recent troubles, VCU is ranked No. 19 out of 350 in the NCAA's Ratings Percentage Index (RPI), a key component in determining selections and seeds.
The Rams' schedule is ranked as the nation's sixth toughest.
Davidson College (29th), University of Dayton (33rd), University of Richmond (54th) and University of Rhode Island (69th) are the next highest Atlantic 10 schools on the RPI chart.
VCU's signature "Havoc" was full throttle against George Mason in the March 7 game. The visitors were harassed into 24 turnovers while scoring just 22 field goals.
The Rams had 19 steals, one short of a school record.
It was the seventh time a VCU foe has had more turnovers than baskets this season.
George Mason Coach Paul Hewitt is clearly on the hot seat following his team's 11-20 record last year and 9-19 standing this season.
In 2004, Coach Hewitt guided Georgia Tech to the NCAA final and was considered among the nations' elite African-American coaches.
Coach Hewitt was 190-162 at Georgia Tech before succeeding Jim Larranaga in Fairfax.
The NCAA Selection Show will be broadcast 6 p.m. Sunday, March 15, on CBS.
Possible sub-regional (March 19-22) destinations for VCU are Charlotte, N.C.; Pittsburgh, Louisville; Columbus, Ohio; Seattle, Portland; Jacksonville, Fla.; and Omaha.
Fifth seeded a year ago, the Rams were sent to San Diego, where they dropped the opener to Stephen F. Austin State University.