VCU basketball roster changes with new coach
5/19/2017, 8:38 p.m.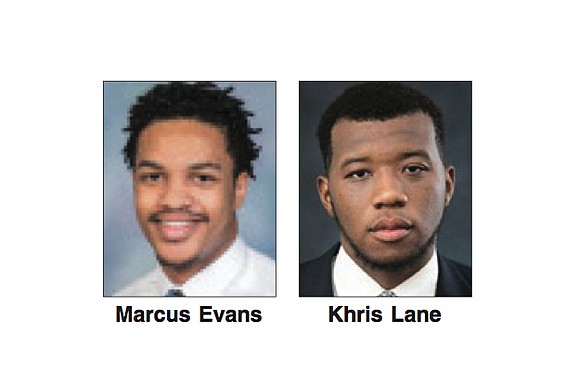 Virginia Commonwealth University's so-called basketball offseason has been anything but "off" in terms of news.
There has been a steady flow of traffic — both arriving and departing — at the Atlantic 10 Conference university in Richmond.
Here are some highlights, so far:
The Siegel Center's front door began revolving when Coach Will Wade resigned March 20 after two seasons at VCU (51-20 record) to become head coach at Louisiana State University. Within hours, former Rams assistant Mike Rhoades, who had been head coach at Rice University the past two seasons, was hired as Coach Wade's successor.
That triggered a chain reaction as the Rams player roster changed.
Most recently, Coach Rhoades signed Tyler Maye, a 6-foot-1, 170-pound guard out of Farmville Central High School in North Carolina. Maye averaged a whopping 36 points this season for the 14-9 Farmville Central Jaguars.
As a junior, Maye scored 28 points per game for the North Carolina state 2A champions.
Maye played the first of two varsity seasons at private Greenfield School in Wilson, N.C.
Two recruits of Coach Wade — Levar Batts and Mayan Kiir — reneged on VCU as a result of the coaching change. Batts opted for North Carolina State University, while Kiir changed to LSU.
Rising senior Ahmed Hamdy-Mohamed, a 6-foot-9 post player, transferred to Texas Christian University for his senior season.
Rising sophomore Marquell Fraser also announced he would be transferring to a yet undetermined school.
Kevin Easley, who had committed to VCU as a high school junior (Class of 2018) in Indianapolis, Ind., decommitted and re-opened his recruiting.
On the upside:
Two other Wade signees — Sean Mobley and Marcus Santos-Silva — announced they will attend VCU despite the coaching change.
Marcus Evans, who played for Coach Rhoades at Rice, has left the Houston school to join Coach Rhoades at VCU.
Native Richmonder Khris Lane, who led Longwood University in scoring this past season, is transferring to VCU as a graduate transfer with immediate eligibility. Lane split his high school years between Meadowbrook High School, Trinity Episcopal and Benedictine.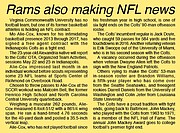 Lewis Djonkam, a native of Northern Virginia who played this past season at Hargrave Military Academy, decommitted from Duquesne University and signed with VCU.
The changes may not be over.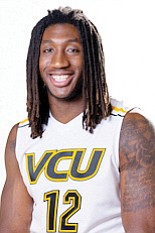 NCAA Division I schools are allowed 13 scholarships and VCU's total rests now at 12. Coach Rhoades continues to hit the recruiting trail for the upcoming season and beyond.
A possible recruit:
Senior-to-be Darius Thompson, a native Tennessean who is leaving the University of Virginia as a graduate transfer. Thompson would be immediately eligible.
Coach Rhoades didn't travel alone from Rice University.
Moving with Rhoades to VCU are two Rice assistant coaches, J.D. Byers and Brent Scott, plus video coordinator Joey Rodriguez.
Rams fans recall Rodriguez as a standout on VCU's 2011 Final Four team. At VCU, Rodriguez becomes director of player development.
Byers also coached previously with Coach Rhoades at Randolph-Macon College.
Also returning to VCU as an assistant coach is Jeremy Ballard, who coached with Rhoades at VCU from 2012 through 2015. Ballard most recently was an assistant coach at the University of Pittsburgh.
There is a certain state of flux at VCU, not uncommon with coaching changes.
VCU personnel for the upcoming season will include talent recruited by three different head coaches — former Coach Shaka Smart, former Coach Wade and Coach Rhoades.
Starting this week, here's how the Rams roster looks for 2017-18:
Seniors: 6-foot-6 newcomer Lane and 6-foot-7 Justin Tillman and 6-foot-1 Jonathan Williams, both recruited to VCU by former Coach Smart.
Juniors: None.
Sophomores: 6-foot-4 Malik Crowfield, 6-foot-5 DiRiante Jenkins and 6-foot-4 Samir Doughty, recruited to VCU as a freshman by Coach Wade, and 6-foot-6 Issac Vann, who was recruited to VCU by Coach Wade following one season at the University of Maine.
Freshmen: 6-foot-9 Sean Mobley and 6-foot-6 Marcus Santos-Silva, recruited to VCU by Coach Wade, and 6-foot-8 Djonkam, a Rhoades recruit.
Sitting out: Evans, a 6-foot-1 guard, averaged about 20 points per game in two seasons at Rice. He must sit out this season and will gain eligibility in 2018-19, with two seasons left to play.
Expect more news sooner rather than later. No VCU roster these days should be written with anything more permanent than a pencil.