Nationwide talent bring boost to VCU Rams
Fred Jeter | 11/29/2018, 6 a.m.

List of Rams with their home states:
Virginia: Marcus Evans (Chesapeake) and Mike'L Simms (Highland Springs)
Florida: Sean Mobley, Michael Gilmore and KeShawn Curry
South Carolina: De'Riante Jenkins
Kentucky: Corey Douglas
Ohio: Vince Williams
Arizona: Dylan Sheehy-Guiseppi (walk-on)
Louisiana: Malik Crowfield
Massachusetts: Marcus Santos-Silva
Georgia: Xavier Jackson
Connecticut: Isaac Vann
Texas: P.J. Byrd
NOTE: The Rams add another state next season with Class of 2019 signee Jarren McAllister from North Carolina. McAllister is prepping this season at Massanutten Military Academy.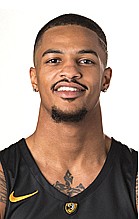 Virginia Commonwealth University searches near and far for basketball talent, but lately the emphasis has been on far.
Of Coach Mike Rhoades' 14 players, just two are Virginians and only one has Richmond ties.
This season, players hail from 11 different states, including from as far away as Arizona, thus the tag "Rhoades map Rams."
This isn't a knock. In expanding its recruiting tentacles, VCU has risen to become one of the NCAA's most consistently winning programs. The Rams are 5-1 this season following a nervous 67-66 overtime win Saturday, Nov. 24, over Hofstra University.
VCU's program boasts a lengthy list of superlatives. The Rams made seven straight NCAA Tournaments prior to last season while developing one of the nation's most loyal fans bases. The program also has enjoyed 121 straight home sellouts.
The Rams' geographically diverse roster isn't new. VCU's 2011 Final Four squad showcased players from six states, including Californian D.J. Haley, the starting center.
The makeup of the current roster is a product of three coaches — Coach Rhoades and his two predecessors, Coach Will Wade and Coach Shaka Smart.
Surprisingly, no players hail from Coach Rhoades' home state of Pennsylvania.   
Both native Virginians need an asterisk by their names on the roster. Both joined the Rams from out-of-state colleges and were not pursued by VCU while in high school.
Marcus Evans transferred to VCU from Rice University while Mike'L Simms, who played locally at Highland Springs High School in Henrico County, was signed by Coach Rhoades out of Cowley College, a community college in Arkansas City, Kan.
---
While VCU has found fortune with a more far-flung recruiting strategy, its record book is brimming with local heroes.
Of the Rams' all-time Top 10 scorers, six are local: Len Creech (George Wythe High School), Kendrick Warren (Thomas Jefferson High School), Charles Wilkins (Maggie L. Walker High School), Bradford Burgess (Benedictine College Preparatory), Dominic Jones (Manchester High School) and Jesse Dark (Maggie Walker High).
---
Evans, having overcome two surgeries on his Achilles tendon, impresses with his ability to score quickly, and heal quickly — and not necessarily in that order.
He underwent his first Achilles surgery, on his left foot, in June 2017. He was injured again last June and underwent surgery on his right foot.
It doesn't seem to have slowed him down. The 6-foot-2 guard is second on the team in scoring (13.3), first in steals (14) and best at getting to the foul line (21 for 31).
Evans scored 1,350 points in two seasons at Rice before coming to Richmond and sitting out last year.
---
VCU has come to be known as "3CU" for its penchant for hoisting bonus shots beyond the arc.
After six games, 156 of VCU's 353 total field goal attempts (44 percent) were from a distance. The busiest Ram behind the arc is De'Riante Jenkins, with 35 3-point tries out of 54 shots.
---
The Rams play host to Iona College in New York on Saturday, Dec. 1, and then will pack for trips to the University of Texas on Wednesday, Dec. 5, and the University of Virginia on Sunday, Dec. 9.
The University of Texas, now under former VCU Coach Shaka Smart, scored a take-notice victory over the University of North Carolina at Chapel Hill on Nov. 22 in Las Vegas.
The University of Virginia is 6-0 and ranked No. 4 nationally.
Both Texas and Virginia defeated the Rams last year at the Siegel Center.