VCU in place to win A-10 Tournament
Since joining the Atlantic 10 Conference, VCU has compiled the conference's best basketball record while being shut out for two prestigious individual awards.
The Rams are 100-38 combined against A-10 opponents since 2012, but have never had a Player of the Year or Coach of the Year winner.
That may — some say should — change March 12 or 13 when this year's honors are announced during the A-10 Tournament at Brooklyn's Barclays Center.
The awards are voted on by coaches and media.
VCU guard Marcus Evans and second-year Coach Mike Rhoades deserve serious consideration from the pollsters.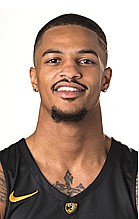 After defeating the University of Richmond 69-66 last Saturday, VCU is 23-6 overall and 14-2 in the A-10, a full two games ahead of runner-up Davidson College. The UR victory was the Rams' 10th in a row. 
Evans has been a catalyst. Entering this final week of the regular season, the 6-foot-2 junior from Chesterfield County leads the Rams with a 13.9 point scoring average, 96 assists and 55 steals.
His aggressive, penetrating style has led to being the most-fouled Ram. And Evans has responded nicely, hitting 123 of 159 free throw attempts for 77 percent.
Evans' numbers would be larger if not for VCU's deep, effective bench.
A transfer from Rice University in Houston, Evans averages just 27.2 minutes per game, much less than most other Player of the Year candidates.
The team is vastly improved from a year ago when Coach Rhoades' inaugural Rams team went 18-15 overall and 9-9 in the A-10.
The upgrade has come as a surprise, especially when considering the loss of both leading scorer-rebounder Justin Tillman, and playmaker Jonathan Williams, from a year ago.
The Rams were picked to finish seventh in a preseason poll, but now are in a commanding position to earn a first-place banner.
Coach Rhoades, a former VCU assistant under former Coach Shaka Smart, would seem to have little competition for the best coach award.
Evans' top A-10 challengers might be scoring leader Charlie Brown of St. Joseph's University, Kellan Grady and Jon Axel Gudmunsson of Davidson, Obi Toppin of the University of Dayton and the University of Richmond's Grant Golden.
It also could be Evans will have to share votes with teammates Marcus Santos-Silva, De'Riante Jenkins and Issac Vann.
The Rams' balance and bench production, along with some lopsided victories, tend to water down individual statistics. In many cases, the starters were off the floor late in games. No VCU player ranks near the A-10 leaders in minutes played.
VCU's last Player and Coach of the Year awards came when the Rams were members of the Colonial Athletic Association. Eric Maynor was VCU's last Player of the Year in 2009, while Anthony Grant was the last Coach of the Year in 2007.
Grande finale
The Virginia Commonwealth University Rams will close their regular season Friday, March 8, against St. Joseph's University. Tipoff is 9 p.m. at the Siegel Center in Richmond, with ESPN2 televising the game. VCU is 15-1 this season at the Siegel Center.