Wade exits VCU; Rhoades returns
3/24/2017, 7:47 p.m.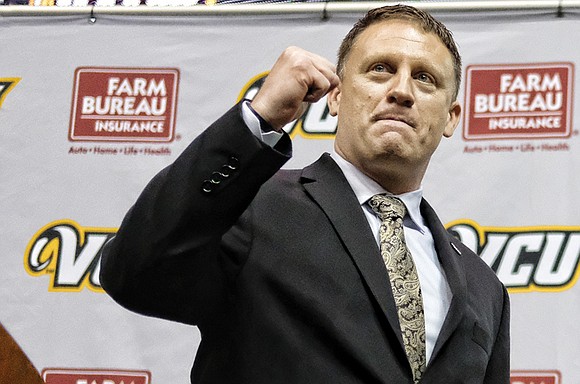 Like cats, Virginia Commonwealth University basketball has a knack of landing on its feet.
The Rams have a proven track record of overcoming awkward predicaments without breaking stride or losing winning momentum.
Earlier this week, Rams Coach Will Wade announced he was leaving for a more lucrative job at Louisiana State University of the Southeastern Conference. His new, six-year contract at LSU reportedly is worth $12 million.
In two seasons at VCU, Coach Wade's Rams were 51-20 with two NCAA Tournament appearances. His salary with the Rams was about $1.4 million per year.
Former VCU assistant coach and current Rice University head coach Mike Rhoades will replace Coach Wade.
This marks the fourth time since 2006 that VCU has lost a coach to a bigger-name school with more money. Each time, the Rams showed their resilience.
When Jeff Capel III left for the University of Oklahoma, Anthony Grant stepped right in and guided the Rams to their most glorious win ever — an NCAA Tournament upset of Duke University.
When Coach Grant left for the University of Alabama, Shaka Smart took over and, in short order, the Rams were in the 2011 NCAA Final Four, whipping the likes of the University of Kansas and Florida State University en route to the NCAA semifinals.
Coach Smart took off for the University of Texas, only to see Coach Wade keep up the Rams' pace without missing a beat. The Rams were 25-11 and 26-9 with Coach Wade on the sidelines, leaving VCU fans to ask, "Shaka who?"
This is no overnight success story. VCU has won at least 24 games each of the last 11 seasons. It has been to seven straight NCAA Tournaments. Only three schools have longer streaks.
During this run, there have been obstacles aplenty, all of which turned out to be temporary at most. In addition to withstanding the parade of coaches, consider this:
In becoming a perennial powerhouse, VCU has overcome the loss of two NBA first-round draft choices — Eric Maynor in 2009 and Larry Sanders in 2010.
The team has sustained success despite losing four star seniors — Jamie Sheen, Joey Rodriguez, Ed Nixon, Brandon Rozzell — from the 2011 Final Four entry, and losing brilliant 3-point shooters Troy Daniels in 2014 and Melvin Johnson in 2016.
The Rams have continued to roll despite losing its greatest defensive guard ever — Briante Weber in 2015 — and two more of the programs' all-time scorers — Bradford Burgess in 2012 and Treveon Graham in 2015.
The wins have kept coming in bunches, and so have the fans by the thousands. VCU is working on a 99-game sellout streak at the always rocking Siegel Center.
VCU Athletic Director Ed McLaughlin in a prepared statement said, "We have a world-class practice facility, a sold-out arena every night and a fan base than ranks with the best in all of college basketball.
"VCU basketball is bigger than one person. We remain committed to ensuring VCU has a Top 25 program nationally."
Coach Rhoades, 44, served five years under Shaka Smart at VCU during a period when the Rams went 137-46 with the 2011 trip to the NCAA Final Four. He was named head coach at Rice on March 26, 2014.