'Havoc' to continue under Will Wade
Fred Jeter | 4/9/2015, 3:09 p.m.
Among Shaka Smart's first duties upon becoming Virginia Commonwealth University's basketball coach in 2009 was to hire Will Wade as an assistant.
Smart referred to Wade as "my first hire."
After Smart's resignation for the head coaching job at the University of Texas last week, among the first moves the VCU administration made was to hire Wade as head coach for the Rams.
The 32-year-old Nashville native was introduced as Smart's successor in an open-to-the-public announcement Wednesday at the Siegel Center that seemed more like a pep rally than a news conference, complete with The Peppas pep band and hundreds of loud cheering fans in the campus arena.
"I could not be more excited about returning to VCU," Wade said.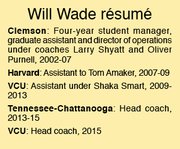 "I look forward to leading this group of student-athletes and building on the momentum established through the great players, coaches and people that make the VCU brand nationally recognized."
He said "Havoc" will continue to reign at VCU.
Wade served under Smart for four seasons — during that period, the Rams were 111-37 — before becoming head coach at Tennessee-Chattanooga of the Southern Conference.
His UTC Moccasins were 40-25 over two seasons, including 22-10 this past season when Tennessee was 15-3 in the conference, second to Wofford College.
On a down note, his UTC final season ended badly with a 69-67 Southern Conference quarterfinal tournament loss to last-place Furman University.
Wade, who worked previously with Smart as Clemson assistants in 2006-07, was Southern Conference Coach of Year in 2014.
Wade's first responsibilities will be to ensure VCU's current players remain on campus, and that three prized recruits don't venture elsewhere.
VCU has 10 returning players from last season, including three that Wade helped recruit prior to 2013 — rising senior Melvin Johnson and juniors-to-be Jordan Burgess and Mo Alie-Cox.
Also as a VCU assistant, Wade helped lure Juvonte Reddic and Rob Brandenberg to the Rams. Both have since graduated.
The Rams' incoming recruits are Ken Williams of L.C. Bird High in Chesterfield, Tevin Mack of Columbia, S.C., and Jordan Murphy of San Antonio, Texas.
According to ESPN, they represent the nation's 28th best recruiting class.
While Wade flourished in the Southern Conference, his teams were not competitive against stronger teams. Non-conference losses were to Wisconsin (89-45), Butler (70-48) and Georgia (86-55).  
His Moccasins employed an aggressive, disruptive defensive style, similar to Smart's "Havoc," that UTC dubbed "Chaos."
There are similarities. This past season, UTC forced an average of 13 turnovers per game while averaging 6.6 steals.
By comparison, VCU forced an average of 16.6 turnovers and had an average of 9.5 steals in the final 36 games under Smart.
Among Wade's top performers this past season was 6-foot-10 VCU transfer Justin Tuoyo, who blocked 104 shots and was named Southern Conference Defensive Player of Year.
UTC averaged 72.7 points per game this past season while their opponents averaged 66.9 points per game.
The UTC to VCU move represents a serious upgrade for Wade.
VCU's RPI (power ranking) this past season was 15 (out of 350 nationally) with a No. 15 strength of schedule.
UTC's RPI was 110, with a 227 strength of schedule.
The Atlantic 10 Conference, which VCU is a part of, was the nation's seventh-ranked conference; the Southern Conference ranked No. 30.
Coincidentally, Wade becomes VCU's second coach from UTC. In 1997, Moccasins Coach Mack McCarthy was summoned to serve under Sonny Smith.
After one season as Smith's top aide, McCarthy, a three-time Southern Conference Coach of the Year, became head coach at VCU until 2002, when he was replaced with Jeff Capel III.
Wade was one of four former VCU aides considered to succeed Smart. Others were Mike Rhoades, now head coach at Rice; Jamion Christian, currently head coach at Mount St. Mary's; and current Rams assistant Jeremy Ballard.
"We knew quickly that Will is the bet fit to lead the VCU basketball program during our exhaustive and rapid national search," said VCU Athletic Director Ed McLaughlin.
Rhoades and Wade were interviewed by McLaughlin during Final Four activities in Indianapolis.   
Another Smart aide, Mike Morrell, has joined Smart in Austin as assistant coach.