Santos-Silva is VCU's latest big man making his mark
VCU's rich basketball history features a lengthy list of impressive big men.
Marcus Santos-Silva is the latest shining example.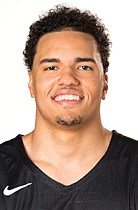 The brawny and surprisingly nimble 6-foot-7, 250-pound junior from Taunton, Mass., has become the Rams' go-to man near the hoop.
Santos-Silva was the bright spot in a pair of nail-biting VCU losses to big-time programs during the Emerald Coast Classic Nov. 29 and 30 in Destin, Fla. He had 19 points in the 59-56 loss to Purdue University and 22 points in the 72-69 setback to the University of Tennessee.
For the season, Santos-Silva leads the 6-2 Rams in scoring (13.8 points per game), re-bounding (9.5), shooting percentage (.625) and minutes logged (25.6).
He's also a powerful pillar defensively, combining strength and smarts. Through eight games, he had 10 blocked shots and 14 steals.
Rams fans have become accustomed to stellar play on the low post since the program entered the NCAA Division I in the early 1970s.
Here's a look back at some notable centers/ power forwards:
Bernard Harris (6-foot-10, 1970-74): Under Coach Chuck Noe, "Supernard" averaged 17 points, 11 rebounds; drafted by the NBA Buffalo Braves.
Ren Watson (6-foot-9, 1975-79): Averaged 12 points, 11 rebounds and is the career leader in blocked shots (391); drafted by the Golden State Warriors.
Kenny Jones (6-foot-11, 1980): Starting center on the Rams' first NCAA qualifier; drafted by the Milwaukee Bucks.
Kenny Stancell (6-foot-9, 1979-82): Averaged 11 points, seven rebounds; MVP of the 1981 Sun Belt Tournament; drafted by the Golden State Warriors.
Greg McCray (6-foot-8, 1978-81): From Hopewell; averaged 11 points and eight rebounds; drafted by the Boston Celtics.
Mike Schlegel (6-foot-8, 1981-85): Averaged 10 points, six rebounds; helped the Rams to three NCAA appearances; drafted by the New York Knicks.
Antoine Ford (7-foot, 1989): Intimidating shot blocker under Coach Mike Pollio after transferring from Georgia Tech.
Martin Henlan (6-foot-10, 1987-90): A two-year starter, the Englishman set a school rebounding record in VCU's loss to Indiana University in the Hoosier Classic.
Kendrick Warren: (6-foot-8, 1990-94): Most dynamic high-flyer in program history, averaged 17.5 points, 10 rebounds; the native Richmonder played pro ball many years overseas.
Sherron Mills (6-foot-9, 1991-93): Averaged 15 points as a senior and was drafted as the second pick in the second round by the NBA Minnesota Timberwolves.
Bernard Hopkins (6-foot-8, 1995-96): The junior- college transfer was CAA Player of the Year under Coach Sonny Smith in 1996.
George Byrd (6-foot-8, 1994-97): Averaged nine points, seven rebounds; later became a superstar on the SlamBall circuit.
L.F. Likcholitov (6-foot-11, 2001-03): The Rus- sian native averaged seven points, six rebounds; also a powerful shot blocker with the deepest speaking voice in VCU lore.
Troy Godwin (6-foot-7, 2003-04): The 300-pound junior-college transfer combined with guard Dom Jones to lead the Rams to the 2004 NCAAs.
Larry Sanders (6-foot-11, 2005-08): Coach Anthony Grant's recruit averaged 11 points, eight rebounds; left the team early to join the NBA Milwaukee Bucks as a first-round draft pick.
Jamie Skeen (6-foot-8, 2009-11): This Wake Forest University transfer was the NCAA Southwest Region MVP in 2011 in San Antonio; paced Coach Shaka Smart's Rams to the Final Four.
Juvonte Reddic (6-foot-9, 2010-14): Scored 1,438 points, grabbed 895 rebounds and helped the Rams to four NCAA berths under Coach Smart.
Mo Alie-Cox (6-foot-7, 2013-17): Scored 1,092 points, grabbed 663 rebounds and blocked 255 shots; now wears No. 81 for the NFL Indianapolis Colts.
Justin Tillman (6-foot-8, 2014-18): As a senior, averaged 19 points and 10 rebounds; All-Atlantic 10 and All-Atlantic 10 Defensive.
Which brings us to Santos-Silva.
VCU hasn't suffered a losing season in the 21st century. The Rams have been to 11 NCAA tournaments since 2004 and six more prior to 2000.
Also since 2004, VCU has won five conference tournament titles and six conference regular season crowns.
Those are some big numbers. It took some big men to achieve them.

Old rivals
Saturday, Dec. 7: Virginia Commonwealth University plays Old Dominion University at VCU's Siegel Center.
Tipoff: 8p.m
Gametobe broadcast on MASN and CBS6-Richmond.
VCU leads the series 50-44 since 1968. However, the schools began playing one another in the late 1940s, when VCU was Richmond Professional Institute and ODU was the Norfolk Division of the College of William & Mary.