Davis trading nets in Portland for Brooklyn
Fred Jeter | 7/16/2018, 9:25 a.m.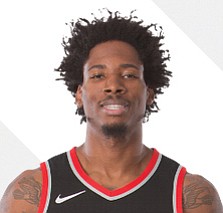 Richmond's current homegrown NBA talent is on the move again, leaving broken hearts behind.
Much to the chagrin of former teammates, coaches, friends and fans in Portland, Ore., Ed Davis is headed for his fifth team, the Brooklyn Nets.
The 6-foot-10, just turned 29-year-old signed a one-year contract for $4.4 million with his new team coached by former University of Richmond guard Kenny Atkinson.
The July 3 news didn't sit well in Portland.
On the sports page of The Oregonian, Trail Blazers Damian Lillard and C.J. McCollom posted emojis of a broken heart.
Lillard, an All-Star guard, had gone so far as to tell management he would "fight" to keep Davis in the Pacific Northwest.
Davis even said he hoped to play the remainder of his career and eventually "retire" in Portland.
Instead, he's coming east with fiancée Kayla Head and infant twin sons Easton and Eagan.
Coming off the bench with a vengeance, Davis was a fan favorite with a blue-collar, selfless style of attacking the backboards and defending opposition behemoths. His physical style earned him the nickname "Phys-Ed."  
The decision in Portland, while unpopular to many, including Coach Terry Stotts, was apparently influenced by the NBA's salary cap and luxury cap regulations. Zach Collins, 20, Caled Swanigan, 21, and Meyers Leonard, 26, will compete to try and fill Davis' void in Oregon.
Since Davis' departure, Blazers starting center Jusuf Nurkic, 23, a 6-foot-11 Bosnian, has signed a four-year, $48 million deal.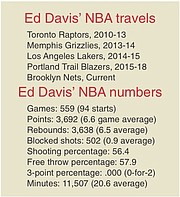 In 2013, Davis signed a three-year contract worth $20 million, or about $6.7 million per season.  
Blazers brass may have been in a foul mood and grasping for change after being eliminated in four straight by underdog New Orleans in the Western Conference first round.
While Davis thrives near the bucket, he isn't an outside shooting threat, somewhat limiting a team's ability to spread the floor and create opportunities from a distance. Davis has launched only two treys in his career.  
Portland General Manager Neil Olshey said he was in on Davis' phone conversation with Brooklyn and actually "counseled" his player to take the Nets' offer.
On the surface, Davis is going to a worse team (Portland was 49-33; Brooklyn, 28-54) for less money. Of course that could, and likely will, change with future negotiations.
Davis appears to have plenty of fruitful seasons left in his powerful 240-pound frame.
This past season was among his finest as he averaged 5.3 points and 7.4 rebounds in just 18.9 minutes per, helping the Blazers to the playoffs. His rebounding efficiency ranks among the NBA elite.
With Brooklyn, Davis figures to back up 2017 No. 1 draft pick Jarrett Allen out of Texas, who averaged 8.2 points and 5.4 boards as rookie.
Davis is in the conversation among the area's all-time talents from Richmond high schools.
The short list of others with significant NBA credits are Bobby Dandridge (Maggie Walker High, 839 NBA games), Gerald Henderson (Huguenot High, 871 games) and Paul Pressey (George Wythe High, 724 games).
The son of Terry Davis and Angela Jones, Davis was born in Washington, D.C., but grew up in Mechanicsville in Eastern Hanover County. He excelled at Hanover High before transferring to Benedictine and pacing the Cadets to back-to-back Virginia Independent Schools titles.
Among the nation's most heavily recruited talents, Davis signed with the University of North Carolina and helped the Tarheels win the 2009 NCAA crown as a freshman.
In 2010, following his sophomore season at UNC, he was the 13th overall pick by Toronto in the NBA draft.
Despite solid contributions and impeccable character, he's become something of a journeyman now with five teams in nine seasons.
Phys-Ed's nomadic career hasn't been due to lack play or hustle, and certainly not lack of heart. While Brooklyn celebrates the arrival of a classic low post warrior, Portland grieves.