New CEO named to lead Richmond Community Hospital, other Bon Secours facilities
7/26/2018, 6 a.m. | Updated on 7/31/2018, 12:44 p.m.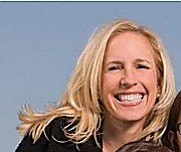 Leigh Sewell is the new chief executive officer for Bon Secours Richmond Community Hospital in the city's East End and for two other Bon Secours operations.
Her promotion was announced Monday as Bon Secours continues preparations for its fall merger with Mercy Health, a Catholic hospital operation in Ohio and Kentucky.
Ms. Sewell, previously senior vice president for strategic operations for Bon Secours Virginia, succeeds Mark Gordon as the top executive for the 104-bed hospital on North 28th Street and its associated Sarah Garland Jones Center for Healthy Living in the East End.
Ms. Sewell also will lead Bon Secours' 224-bed Memorial Regional Medical Center in Hanover County and the Memorial Regional College of Nursing, now located in Henrico County but set to have a new home on the Hanover hospital campus.
The change does not impact leadership at Bon Secours' other area hospitals, including St. Mary's, led by Francine Barr, and St. Francis and Rappahannock General hospitals, led by Christopher Accashian.
"I have worked with Leigh for many years, and she is a strong servant leader who is committed to our ministry," Toni R. Ardabell, CEO of Bon Secours Virginia, stated in the announcement. "She has a passion for patient-centered care and the business acumen needed to lead these three entities."
"I am honored to lead Richmond Community, Memorial Regional and the College of Nursing and will focus on meeting the needs of the communities each facility serves," Ms. Sewell stated in the announcement.
Since joining Bon Secours in 2006, Ms. Sewell has risen through the ranks in filling leadership roles in materials management, physician relations, medical staffing and former chief of staff to Peter Bernard.
Later as senior vice president, Ms. Sewell had broad oversight of everything from strategic communications and critical care transportation to rehabilitation operations, behavioral health operations, project management and service strategy.
Ms. Sewell entered the health care field after one of her twin daughters was born with cerebral palsy. She has been involved in advocating for those living with disabilities and also currently chairs the "Go Red for Women" campaign of the Greater Richmond Chapter of the American Heart Association.
She holds a bachelor's from James Madison University and a master's in health administration from Virginia Commonwealth University.
The merger between the parent Bon Secours Health System and Mercy Health is to take place in the fall, with John M. Starcher Jr., to serve as president and chief executive officer of the new organization.
The combined entity is to be called Bon Secours Mercy Health and will operate 43 hospitals, including the five in the Richmond area, plus 53 post-acute care facilities, including nursing homes, assisted living centers and hospices and employ 57,000 people.
Mr. Starcher currently is president and CEO of Mercy Health, the largest health system in Ohio and among the top five employers in that state.