Dr. Grace Harris remembered for her 'spirit of hope'
3/1/2018, 1:44 a.m.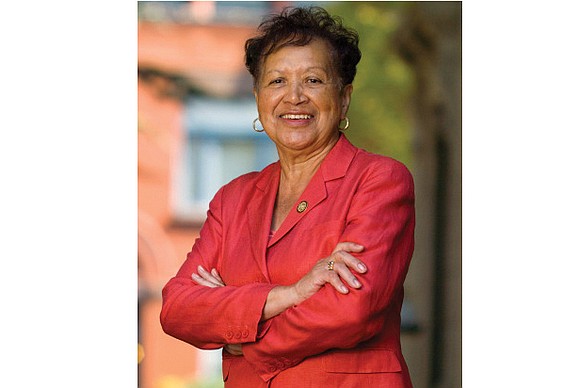 By George Copeland Jr. and Adam Hamza
Capital News Service
Dr. Grace E. Harris, whose life and career stretched from the roads of rural Halifax County to the halls of the Virginia State Capitol, was remembered last Saturday as more than 200 people, including family, friends, legislators and educators, assembled at the Greater Richmond Convention Center.
Dr. Harris, the retired provost at Virginia Commonwealth University, died Monday, Feb. 12, 2018, at age 84.
She was praised as a "thoughtful, forward-thinking leader" by VCU President Michael Rao. Dr. Harris remains the highest-ranking African-American woman in the college's history.
Dr. Rao cited her 48-year tenure at the university, where she served as a dean, provost and interim president, as fundamental to VCU's community and culture.
"I've talked a lot about VCU and its commitment to public good. That's Grace," Dr. Rao said. "VCU is committed to excellence and inclusion. That's Grace."
Dr. Rao also made clear that those present "must never forget" how racism initially barred Dr. Harris from attending VCU in the 1950s. The state-supported school was then known as Richmond Professional Institute and Dr. Harris sought to enroll as a graduate student in the social work program. But as an African-American, she was denied admission. She enrolled at Boston University, where her classmates included Dr. Martin Luther King Jr.
After a hiatus from her graduate studies, she later applied again to RPI and was accepted, earning her master's degree in 1960, joining the social work school faculty in 1967 and later serving as dean.
At the service, members of the Harris family shared memories and personal stories of how they viewed her legacy.
In the course of their life together, Dr. Harris and her husband, James W. "Dick" Harris Sr., had two children — James "Jay" Harris Jr. and Gayle E. Harris. Mr. Harris described the work ethic his mother instilled in him while growing up in a letter read by his wife, Noelle Harris.
"She showed me what hard work, talent and dedication can do," Mr. Harris wrote. "And I'm glad to say and show her that I listened."
Ms. Harris reminisced about the openness, kindness and respect her mother showed her throughout life.
"How wonderful it has been to have such support, encouragement, acceptance and love," she said.
Recalling his time working with Dr. Harris on VCU's Board of Visitors, Judge Roger L. Gregory, chief judge of the 4th U.S. Circuit Court of Appeals, remembered the "prescription of life" she brought during her tenure.
"She gently wove her spirit of hope into the tapestry of every professional endeavor she had and every professional encounter," Judge Gregory said.
A number of political leaders, including Richmond Mayor Levar M. Stoney, attended the service. U.S. Sens. Tim Kaine and Mark Warner, who were unable to attend, sent letters of condolence that were read at the service. Dr. Harris served on Sen. Warner's transition team as he became Virginia's governor in January 2002. When Sen. Kaine was Virginia's governor from 2006 to 2010, Dr. Harris helped him choose appointees to university boards of visitors.
Former Gov. L. Douglas Wilder noted the challenges Dr. Harris faced and overcame as a woman of color in a racially segregated state and society. He also spoke of the importance of her legacy at a time of national upheaval and change for women.
Quoting Dr. Harris directly, Gov. Wilder left the audience with words of inspiration: "I will persist until I succeed, for I was not delivered into this world in defeat."
That inspiration was evident in those in attendance. Leon Sankofa, president and founder of Family and Youth Foundations Counseling Services in Hampton, said Dr. Harris' outreach efforts led him to enroll in VCU's School of Social Work.
"She was my idol," Mr. Sankofa said. "She still is."
Dr. Harris' legacy of compassion extended beyond the funeral's speakers and audience. Band leader Rudy Faulkner, during the opening musical selection, briefly mentioned the kindness the Harris family showed him one Christmas many years ago.
It was this compassion and kindness that Jullian Harrison, Dr. Harris' grandson, saw as her greatest quality.
"Yes, she was smart. Yes, she was kind. But also, she was empathetic," he recalled.
"In a day and age when leadership and power is so synonymous with the focus on self, the fact that she could build a legacy and foundation based on kindness and to have it be successful is what made her."