Dr. Grace E. Harris, whose leadership helped transform VCU, dies at 84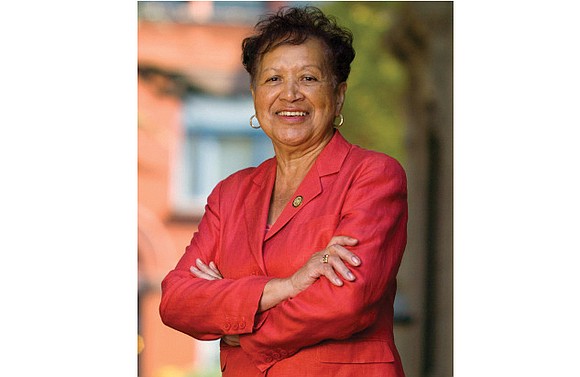 Grace Edmondson Harris was rejected when she first sought admission to what is now Virginia Commonwealth University because she was African-American.
Undaunted by the racial bigotry, she would reapply and complete her master's degree in social work at the school.
Remarkably, she would go on to teach and mentor a generation of social work students at VCU and, as provost, earn recognition as a transformational leader whose work helped reshape the university into a diverse academic center with an enlarged relationship with Richmond and its residents.
Although concerns about the diversity of the faculty still plague VCU, along with worries about the university's huge impact on the city, Dr. Harris won credit for seeking to open VCU to the community and end the town-and-gown divide.

Today, Dr. Harris' name graces the building that houses VCU's School of Business and is incorporated into the name of a VCU leadership institute she helped create and support for 15 years — evidence of the esteem in which the influential educator is held.
Her multiple contributions to VCU are being lauded following her death Monday, Feb. 12, 2018. She was 84.
Family, friends and admirers will celebrate her life at 11 a.m. Saturday, Feb. 24, at the Greater Richmond Convention Center, 403 N. 3rd St., according to Scott's Funeral Home.
The service is to be preceded by a viewing at 9 a.m. and an Omega ceremony by Delta Sigma Theta Sorority at 10:30 a.m., said Richard Lambert, owner of the funeral home.
Dr. Harris is be interred in Mount Calvary Cemetery in Richmond.
Those who knew Dr. Harris lauded her honesty and integrity as well as her ability to connect with people at all levels at VCU and in the community. She was regarded as a no-nonsense but kind person who took the time to listen and work with others to achieve goals.
VCU President Michael Rao described Dr. Harris as "a giant in legacy and in character, a woman whose contributions to VCU are immeasurable. She helped us become one of the nation's premier urban public research universities and personified our commitment to serve the public good."
Her career as a professor and leader at VCU spanned 48 years, with the longtime Richmond resident making her most significant contributions during her six years of service as provost and academic vice president during the tenure of former VCU President Eugene P. Trani.
According to VCU, Dr. Harris was the first African-American woman to serve in the No. 2 post as provost, the chief academic officer, at a four-year, state-supported university in Virginia.
University officials noted that she "was the chief architect of VCU's first strategic plan" that laid the groundwork for the contemporary school and enabled the long disconnected medical and academic campuses to find common ground.
Dr. Harris, who also served as VCU's acting president in 1995 and 1998 when Dr. Trani was away on research trips, also is credited with mobilizing support for the development of the VCU School of Engineering and with encouraging the physical expansion of the university into the Carver community and new sections of Downtown — developments that VCU states dramatically expanded the school's presence and "redefined its role as an anchor of regional economic and community development."