Dr. Grace E. Harris, whose leadership helped transform VCU, dies at 84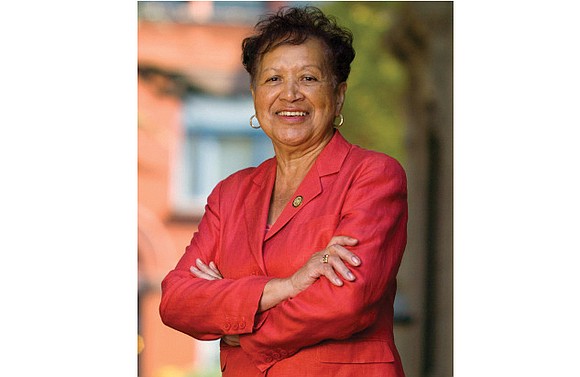 Grace Edmondson Harris was rejected when she first sought admission to what is now Virginia Commonwealth University because she was African-American.
Undaunted by the racial bigotry, she would reapply and complete her master's degree in social work at the school.
Remarkably, she would go on to teach and mentor a generation of social work students at VCU and, as provost, earn recognition as a transformational leader whose work helped reshape the university into a diverse academic center with an enlarged relationship with Richmond and its residents.
Although concerns about the diversity of the faculty still plague VCU, along with worries about the university's huge impact on the city, Dr. Harris won credit for seeking to open VCU to the community and end the town-and-gown divide.

Today, Dr. Harris' name graces the building that houses VCU's School of Business and is incorporated into the name of a VCU leadership institute she helped create and support for 15 years — evidence of the esteem in which the influential educator is held.
Her multiple contributions to VCU are being lauded following her death Monday, Feb. 12, 2018. She was 84.
Family, friends and admirers will celebrate her life at 11 a.m. Saturday, Feb. 24, at the Greater Richmond Convention Center, 403 N. 3rd St., according to Scott's Funeral Home.
The service is to be preceded by a viewing at 9 a.m. and an Omega ceremony by Delta Sigma Theta Sorority at 10:30 a.m., said Richard Lambert, owner of the funeral home.
Dr. Harris is be interred in Mount Calvary Cemetery in Richmond.
Those who knew Dr. Harris lauded her honesty and integrity as well as her ability to connect with people at all levels at VCU and in the community. She was regarded as a no-nonsense but kind person who took the time to listen and work with others to achieve goals.
VCU President Michael Rao described Dr. Harris as "a giant in legacy and in character, a woman whose contributions to VCU are immeasurable. She helped us become one of the nation's premier urban public research universities and personified our commitment to serve the public good."
Her career as a professor and leader at VCU spanned 48 years, with the longtime Richmond resident making her most significant contributions during her six years of service as provost and academic vice president during the tenure of former VCU President Eugene P. Trani.
According to VCU, Dr. Harris was the first African-American woman to serve in the No. 2 post as provost, the chief academic officer, at a four-year, state-supported university in Virginia.
University officials noted that she "was the chief architect of VCU's first strategic plan" that laid the groundwork for the contemporary school and enabled the long disconnected medical and academic campuses to find common ground.
Dr. Harris, who also served as VCU's acting president in 1995 and 1998 when Dr. Trani was away on research trips, also is credited with mobilizing support for the development of the VCU School of Engineering and with encouraging the physical expansion of the university into the Carver community and new sections of Downtown — developments that VCU states dramatically expanded the school's presence and "redefined its role as an anchor of regional economic and community development."
Former Gov. L. Douglas Wilder, a friend and colleague of Dr. Harris at VCU, called her a "rare and iconic visionary" when she fully retired in December 2015.
He said Dr. Harris combined "extreme competence with a deep connection to the needs of the community and its citizens that had a dramatic impact on the identity of VCU and the way it engaged people."
While he was governor, U.S. Sen. Tim Kaine said that he often called on Dr. Harris for guidance on education matters, particularly the appointment of members of the governing boards of state colleges and universities.
Born into a family of scientists and schoolteachers in Halifax County, Dr. Harris went on to graduate from Hampton University.
In 1954, the same year the U.S. Supreme Court outlawed government-enforced racial segregation of public schools, Dr. Harris sought to enroll as a graduate student in the social work program at VCU's predecessor, the Richmond Professional Institute.
Rebuffed because of her race, the recently married new mother took a state grant to study for her master's at Boston University, where her classmates included Dr. Martin Luther King Jr.
Returning home after a year to be with her family, she became a social worker in Hampton, with little expectation of having a future at VCU.

Two years later, she and her husband, James W. "Dick" Harris Sr., moved their growing family to Richmond, where she became a caseworker and ultimately a supervisor in the Virginia Department of Welfare and Institutions.
Meanwhile, she reapplied to RPI, which this time accepted her into the master's program. After earning her master's degree in 1960, she would go on to serve as executive director of the Friends Association for Children, an agency in Gilpin Court, and then move on to direct the anti-poverty Richmond Community Action Program, now Capital Area Partnership Uplifting People, or CAPUP.
But drawn to academe, she joined the faculty of the RPI School of Social Work in 1967, a year before RPI merged with the Medical College of Virginia to form VCU.
During the next nine years, Dr. Harris taught and also took on leadership roles, including director of student affairs for the School of Social Work.
After earning master's and doctoral degrees at the University of Virginia in the mid-1970s, Dr. Harris began her shift to administration.
Promoted to associate professor in 1976, she became associate dean of the School of Social Work two years later. She was promoted to full professor and dean of the school in 1981.
After Dr. Trani arrived in 1990, Dr. Harris was named vice provost for continuing studies and public service. Impressed with her work, Dr. Trani, with approval from the board, named her as VCU's provost three years later.
Her arrival as provost was in part a VCU attempt to demonstrate a greater commitment to diversity, according to news reports at the time. But it also reflected the strong working relationship she had with Dr. Trani and her leadership talent.
"Her strength as a leader was predicated on her belief in the intrinsic value of people," said Dr. Nakeina Douglas-Glenn, director of the Grace E. Harris Leadership Institute and co-author of "Leadership with Grace," an analysis and description of Dr. Harris' methods and style as a manager.
Dr. Douglas-Glenn said that Dr. Harris' approach would continue to guide the leadership institute, which VCU's board created in 1999 to honor Dr. Harris when she retired as provost.
Dr. Harris did not fully retire. Instead, she worked to build up the institute, taught workshops and participated in professional development activities as a distinguished professor. Most recently, she had been a consultant for the institute.
The institute now focuses on helping organizations build up the capacity of their personnel, provide leadership development programs for women and manage the Minority Political Leadership Institute in partnership with the Virginia Legislative Black Caucus.
Dr. Harris was honored for her work and contributions, including receiving the Presidential Medallion from VCU and honorary degrees from the University of Richmond and the College of William & Mary.
Dr. Susan T. Gooden, a VCU professor and former director of the leadership institute, called it an honor to work with Dr. Harris.
"Her brand of leadership is above all a celebration of excellence, collaboration and inclusions," Dr. Gooden said. "By listening and engaging others as decisively as she led, Dr. Harris transformed the culture and values of this university."
Survivors include her husband of 63 years; her children, Gayle Harris and James W. Harris Jr., both of Richmond; her stepdaughter, Gail Ford of Atlanta; and a grandchild.