Winners and losers
Mayor Levar M. Stoney offers details of his $1.42B, 2-year budget plan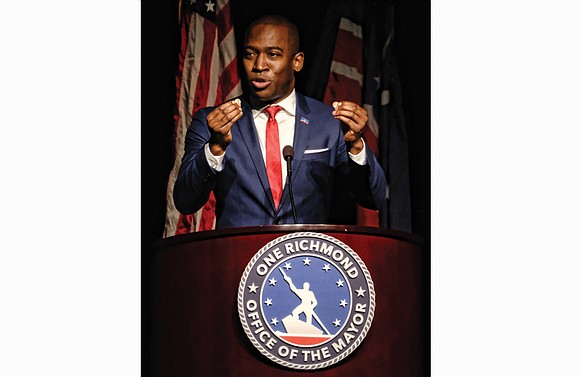 High school students would be able ride GRTC buses without charge on an unlimited basis for a year.
After-school programs for city youths would be expanded by enabling six city recreation centers to stay open longer and through support for programs offered by the YMCA, the YWCA and several other youth-serving groups.
Inmates in the Richmond Justice Center no longer would face a $2 a day fee for being housed there.
And Richmond residents could see their water bills drop up to $16 a month.
These are some of the highlights of the budget plan that Mayor Levar M. Stoney presented to City Council on Tuesday. The proposals listed above would go into effect July 1 if the council approves them.
Council President Chris A. Hilbert, 3rd District, though cautious about endorsing the entire plan, expressed enthusiasm for two of the mayor's initiatives, including the proposal to pay an extra $1.15 million to GRTC to pay for "bus passes for our high school students to go to after-school programs, libraries, jobs, etc. and extension of the hours our community centers will be open."

"These two initiatives will have long-term benefits for our city," he said.
Councilwoman Reva M. Trammell also was supportive of a 1 percent pay increase the mayor proposed for city workers and the potential reduction in the water charge. However, she was disappointed that the mayor wants to suspend a career development program that boosts pay for participating police and firefighters.
The mayor presented a two-year, $1.42 billion budget plan, but most of the focus for the council and others will be on the spending plan for fiscal year 2019, which begins July 1.
For that year, the plan calls for spending $715.27 million in general operating funds — or about $3,208 per person living in the city. The city's budget for fiscal 2019 actually totals more than $1.6 billion when schools, utilities, grants and other items are included.
The budget proposal for general operations represents a $23 million increase from the current 2017-2018 budget of $691 million, or about $3,100 per city resident.

However, a major share of the increase stems from the mayor's decision to take $12.5 million in surplus that Richmond Public Schools accumulated from fiscal year 2017 that ended June 30. The mayor proposes to return that money to schools to use in 2018-2019.
Revenue also is going up because of the $9 million expected to be generated from a 1.5 percent increase in the city's meals tax that was approved Feb. 12. The meals tax hike goes into effect July 1. That money is earmarked to pay for borrowing $150 million for construction of at least four new schools.
Richmond schools Superintendent Jason Kamras expressed disappointment that the School Board's call for an $11 million increase in city spending on education was rejected and that the only new funds would be the money the schools previously didn't spend.
He said if the council does not intervene, the mayor's decision would interfere with RPS' plans to upgrade service to English language learners, to eliminate bus hubs by adding more school buses and to provide more robust educational experiences for all students.