Winners and losers
Mayor Levar M. Stoney offers details of his $1.42B, 2-year budget plan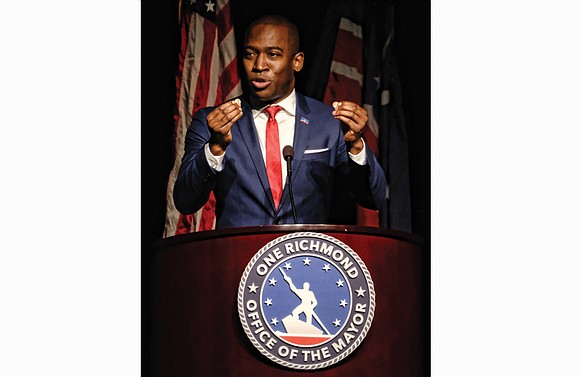 Mr. Kamras also was unhappy with the mayor's plan to provide only $1.5 million for maintenance of the aging inventory of schools in 2018-2019 and $12.9 million over the next five years. That's less than half of the $31 million the School Board requested through 2023.
The mayor noted after his speech that RPS still has $13 million for maintenance that it received in previous years but has not used. He said given the city's financial challenges, he cannot allow RPS to sit on money while calling for additional funding.
In his 30-minute address, Mayor Stoney bemoaned the hard choices he and his administration had to make to produce "a fiscally responsible and very lean budget."
Overall, city revenue is flat and not keeping pace with city needs, he said, even though revenues from the tax on real estate are projected to rise by 5 percent in 2018-2019 because of property value increases in the Fan, Scott's Addition and other parts of the city.
He noted that a five-year forecast his staff presented in January depicted the gloomy revenue outlook. Even with the proposed initiatives, he said "reductions were made throughout this proposed budget" but not "at the detriment of core services."
However, Mayor Stoney's plan calls for creating two new departments at City Hall — one to focus on customer service and the other to focus on affordable housing and community development.
While the new departments largely come out of a shift in existing resources, his plan would require money, including adding high-paid directors to lead the departments.
For example, under the mayor's plan, the new Housing and Community Development Department would come largely from breaking up the current Economic and Community Development Department, streamlining that department to solely focus on attracting and retaining businesses.

The winners in the plan appear to be city youths, utility customers and city employees.
While the mayor's plan provides extra money to GRTC to ensure high school students ride free, his plan drops the $190,000 subsidy the city provided GRTC for reduced fares for senior citizens.
Under the budget plan, residential water use would be shifted to a conservation-focused billing approach that would charge more to people who use more water. Customers would not be charged for the first 400 cubic feet of water used each month. Four hundred cubic feet of water is equivalent to 2,992 gallons. Currently, residents pay $4.04 for each 100 cubic feet, or 748 gallons.
Mayor Stoney said overall utility bills would be affected by a separate 3.25 percent increase in the cost of natural gas service, which is expected to increase the monthly service charge for gas 42 cents to $13.40 monthly.
Still, he told council that the savings on water is expected to cut utility bills $3.70 a month on average, the first such decline "in many years."
City employees also would gain. The mayor's plan would provide general city employees with a 1 percent pay hike effective Jan. 1, 2019. Some employees would get more based on a compensation study. The raises, though small, would be the first in three years.