Hundreds urge support for Medicaid expansion in Va.
3/10/2018, 10:40 a.m.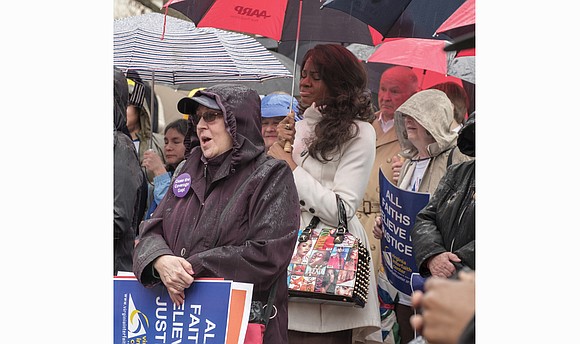 By George Copeland Jr.
Capital News Service
Under the shadow of the Bell Tower on Capitol Square, hundreds of people from across Virginia rallied on a rainy day last week in support of a state budget that would expand Medicaid to about 400,000 low-income residents.
Money to expand the health care program is included in the budget approved by the Virginia House of Delegates. It also would add a work requirement for those seeking coverage. But the budget passed by the state Senate would not expand Medicaid. The two chambers must work out their differences and pass a budget before the legislative session ends Saturday, March 10.
Speaking at the rally on March 1, Gov. Ralph S. Northam said, "Health care is a right. Morally the right thing to do is to expand coverage."
Gov. Northam and other Democrats note that the federal Affordable Care Act encouraged states to expand Medicaid with the promise that the federal government would pick up most of the cost. Neighboring states such as Kentucky, West Virginia and Maryland have expanded Medicaid. But Gov. Northam said Virginia is losing more than $5 million a day by failing to follow suit.
Gov. Northam was joined at the rally by a number of fellow Democrats, including Attorney General Mark Herring and Sens. Lionell Spruill Sr. of Chesapeake, Jennifer Wexton of Loudoun, David Marsden of Fairfax, John Edwards of Roanoke and Jeremy McPike of Prince William.
Many groups were represented at the rally, including the Healthcare for All Virginians Coalition, Planned Parenthood, the Young Invincibles and Progress Virginia.
Karen Legato, executive director of Health Brigade, formerly Fan Free Clinic in Richmond, pointed to the bipartisan support for Medicaid expansion in the House. She said the state's charitable clinics are no substitute for Medicaid expansion. Collectively, the clinics can serve only "152,000 of the 505,000 uninsured eligible for our services," she said.
"We need our government to stand with us — to work with us side by side," Ms. Legato said. "The time is now to ensure that the commonwealth is pro-health and pro-people."
Christopher Rashad Green of New Virginia Majority, an advocacy group for working-class communities of color, discussed his experience being "trapped in the gap" between access to Medicaid and subsidies under the Affordable Care Act. He said he was encouraged to see people at the rally working for "equity and justice and access to affordable health care."
"I didn't believe any of this would happen, but now I actually see it happening, and you are proof of that," Mr. Green said. "We have to remain hopeful and vigilant and do uncomfortable things like speaking truth to power. Keep fighting the fight."
The Rev. Jeanne Pupke spoke on behalf of the Virginia Interfaith Center for Public Policy and other faith leaders. She called for people and faith communities to make their support for Medicaid expansion known to state lawmakers.
"We can do it if we all go home today and work hard to make our voices heard," Rev. Pupke said. "Our interfaith voices, our unfaith voices, for the commonwealth that is our voice."
After the rally, members of the crowd walked to legislators' offices in the nearby Pocahontas Building to urge lawmakers to support Medicaid expansion.
"Keep your energy up. Keep your enthusiasm up," Gov. Northam told the people at the rally. "And let's make sure that in the next week, we expand coverage and make sure that all Virginians have access to affordable and quality health care."