Va. native Floyd Carter Sr., one of the last of the Tuskegee Airmen, dies at 95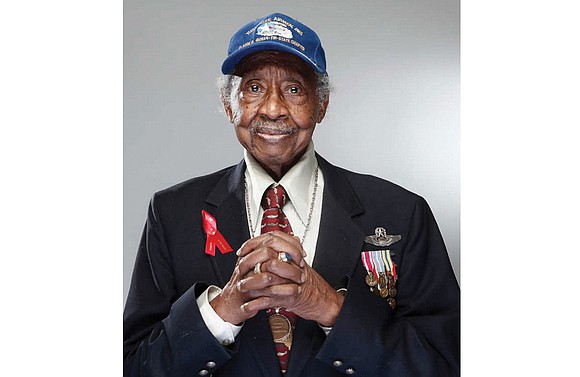 Floyd Carter Sr., one of the last of the Tuskegee Airmen, died Thursday, March 8, in New York, where he served with the New York Police Department for 27 years. He was 95.
A native of Yorktown, Va., Mr. Carter was a decorated veteran of three wars. He simultaneously rose through the ranks of the U.S. Air Force Reserves and the NYPD, and was honored in 2007 with a Congressional Gold Medal by President George W. Bush.
Mr. Carter joined the Army Air Corps in 1944 during World War II, and was commissioned a year later as a 2nd lieutenant bombardier navigator with the Tuskegee Airmen, the first black aviators in the U.S. military. They trained in Tuskegee, Ala.
In 1946, he received his pilot's wings and transferred a year later to the Air Force Reserves.
While training in Tuskegee, he met his future wife, Artherine, who was working as part of an all-female repair crew. He wooed her on several dates in his plane, and they were married at the air base in 1945.
In addition to serving during World War II, Mr. Carter flew during the Korean and Vietnam wars, and led the first squadron of supply-laden planes into Berlin during the famed Cold War airlift of 1948-49. During the Tet Offensive, he flew U.S. troops and supplies into South Vietnam.
When he retired from the reserves in 1974, Mr. Carter was commander of the 732nd Military Airlift Squadron at McGuire Air Force Base in New Jersey.
In 2012, he joined filmmaker George Lucas for a screening of his film, "Red Tails," about the Tuskegee Airmen.
Mr. Carter dedicated his life to serving his country and his city.
He joined the NYPD in 1953, becoming a detective within three years. His duties with the NYPD included work as a bodyguard for visiting heads of state, including Cuban leader Fidel Castro and Soviet head Nikita Khrushchev.
Mr. Carter earned a half-dozen citations for his outstanding police work, and survived a number of shootouts with armed bandits.
"He's got a little history," said his son, Floyd Carter Jr. "We were blessed, we sure were. He went from what I call the outhouse to the fine house. The Lord blessed him."
He retired from the police department in 1980, but remained active into his 90s. In November 2015, he was grand marshal of the annual Veterans Day Parade in Bronx, N.Y.
He also was honored by former New York Congressman Charles Rangel in 2005 for his lifelong achievements.
In addition to his wife and son, Mr. Carter is survived by his daughter, Rozalind Carter, several grandchildren and great-grandchildren.