Dr. Marshall Banks, retired urologist and Roman Catholic deacon, dies at 78
3/23/2018, 9:31 a.m.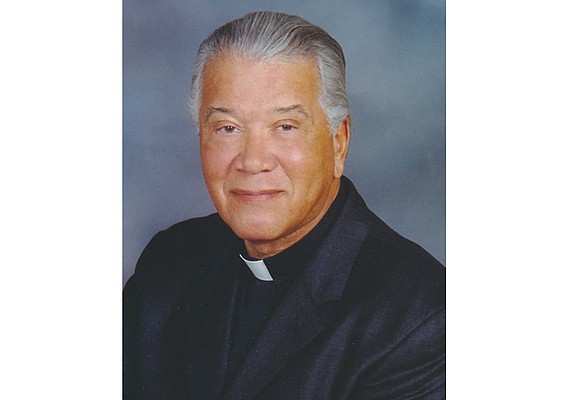 Dr. Marshall D. "Billy" Banks devoted his life to ministering to people as a physician and as a deacon at Cathedral of the Sacred Heart near Virginia Commonwealth University.
The Richmond native specialized in urology, where he sought to heal people suffering from diseases of the kidney, urinary tract and male reproductive organs.
As a permanent deacon at the Cathedral, he filled in for priests. He preached, baptized babies, married the faithful, visited the sick, presided at funerals and handled other responsibilities in the Roman Catholic church.
Described as a kindly, caring man, Dr. Banks' life of service to others is being remembered following his death Sunday, March 11, 2018. He was 78.
His life will be celebrated during a Mass of Christian Burial at 11 a.m. Saturday, March 24, at the Cathedral, 800 S. Cathedral Place, with burial to follow at Mt. Calvary Cemetery.
The family will hold a visitation from 4 to 7 p.m. Friday, March 23, at the Cathedral, followed by a service of remembrance with members of Kappa Alpha Psi Fraternity of which Dr. Banks was a Grand Chapter life member.

The 10th of 11 children, Dr. Banks initially wanted to become a chemist after he graduated in 1958 from Maggie L. Walker High School, where he was a scholar-athlete who played varsity baseball.
He earned an undergraduate degree in chemistry from Virginia Union University and then a master's in the field from Howard University.
He returned to Richmond to become a biochemical research technician at the Medical College of Virginia while also teaching chemistry at Maggie Walker.
His work at MCV sparked his interest in becoming a physician, and he then applied to Meharry Medical College in Nashville, Tenn., where he earned his medical degree in 1970.
He and his new bride, Kathy Dyer Banks, also of Richmond, then flew off to Hawaii, where he completed a surgical internship. He spent two more years in Hawaii as a surgical resident.
Two years later, they moved to Buffalo, N.Y., where he began a residency in urological oncology at Roswell Park Memorial Institute, a comprehensive cancer treatment and research center.
He finished his residency at Wayne State University School of Medicine in Detroit and became a member of the faculty. For several years, he taught medical students and instructed residents in surgical techniques at Wayne State and the University of Michigan School of Medicine.
He and his wife returned to Richmond to be closer to family, opening a private practice in adult and pediatric urology. He retired from the practice in 2006. Meanwhile, Dr. Banks began religious studies, earning a bachelor's in Catholic Theology from St. Meinrad Archabbey College and School of Theology in Indiana in 2003.
After graduation, the now late Bishop Walter F. Sullivan ordained Dr. Banks as a permanent deacon in the Catholic Diocese of Richmond and assigned him to the Cathedral, where Dr. Banks served until his death.
He started playing a larger role as a deacon after closing his medical practice. He was a familiar face to many at the Cathedral. More than 200 people posted messages of condolences on the Cathedral's Facebook page after Dr. Banks' death was announced.
Dr. Banks was a member of the Richmond Academy of Medicine, the Old Dominion Medical Society and the American Urology Association.
He was a member of the Knights of Columbus' Cathedral of the Sacred Heart Assembly No. 3677 and the Bernard J. Quinn Council No. 11710. He also belonged to the Knights of Columbus' Monsignor John J. McMahon Assembly No. 2205.
He was a member of the Equestrian Order of the Holy Sepulcher of Jerusalem.
In addition to his wife of 47 years, survivors include his three sons, Marshall D. Banks II, Martainn D. Banks and Matthieu D. Banks; a brother, Dr. Willie J. "Mike" Banks of Arlington; two sisters, Delores J. Banks and Joan B. Winston, both of Richmond; and a granddaughter.
The family requests that memorial contributions be made to the Cathedral of the Sacred Heart's social outreach program to help the underserved community.