Need protection?
Replicas of Terracotta Warriors up for auction
5/11/2018, 7:56 p.m.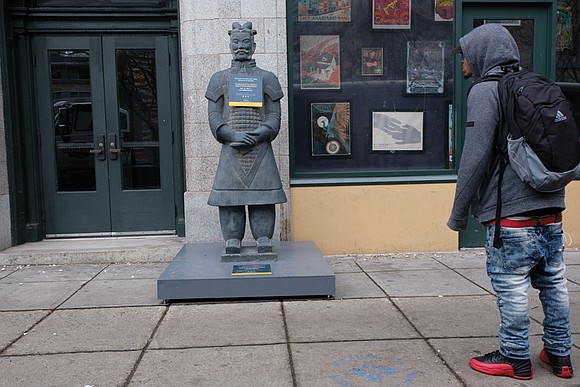 By Ronald E. Carrington
They were life-size terracotta depictions of soldiers protecting Qin Shihuang, the first emperor of China, and buried with him in Xi'an in 210 BCE to protect him in the afterlife.
Now, after 10 of the actual 8,000 Terracotta Warriors discovered in 1974 by farmers in China were on view earlier this year at the Virginia Museum of Fine Arts, replicas of the historic figures are up for auction on a government surplus website.
For a minimum starting bid of $500, people can own one of the 6-foot-5, 500-pound replicas that popped up in various locations around Richmond to advertise the museum's exhibit, "The Terracotta Army: Legacy of the First Emperor of China."
The exhibit, which opened last November, also featured a terracotta cavalry horse, armor, jade ornaments and ritual bronze vessels excavated from the emperor's mausoleum complex.
Thousands of people toured the exhibit before it closed in mid-March. The Terracotta Army, as it also is known, is described as one of the greatest archaeological finds of the 20th century.
To pique the interest of patrons, the museum purchased eight replicas from The People's Republic of China. The statues, situated on a 48-inch by 54-inch metal base with adjustable feet for leveling, were placed at Main Street Station in Shockoe Bottom, Martin Luther King Jr. Middle School in the East End, Altria Theater near Virginia Commonwealth University, the Byrd Theater in Carytown and Hardywood Park Craft Brewery near Scotts Addition to create buzz, said Jan Hatchette, vice president of marketing for the Virginia Museum.
Others were placed in Old Town Alexandria and Merchants Square in Williamsburg to draw people to Richmond, she said.
On occasion, the replica warriors were moved — by pallet jack or forklift — to new sites. One was photographed by the Richmond Free Press at 7th and Broad streets.
But now they have been put up for auction, with four of the eight sold to undisclosed buyers on April 27.
Ms. Hatchette said she could not say how much the replicas were sold for or who purchased them or why.
According to the terms of the auction listed on www.govdeals.com, buyers were required to make all arrangements to transfer their terracotta figures from the museum at 200 N. Boulevard, including packing, loading, transportation and pickup. All had to be moved within 10 business days of the formal sale and issuance of a buyer's certificate. Payments also had to be made online, through credit card, PayPal or wire transfer only, plus applicable taxes.
Ms. Hatchette said the remaining four should be on auction sometime in May. Because the VMFA doesn't have control over the sale date, interested buyers should monitor the auction site, she said.
For more information about the sale, contact Steve Wilson at VMFA at (804) 340-1547.