Historic city credit union seeks new growth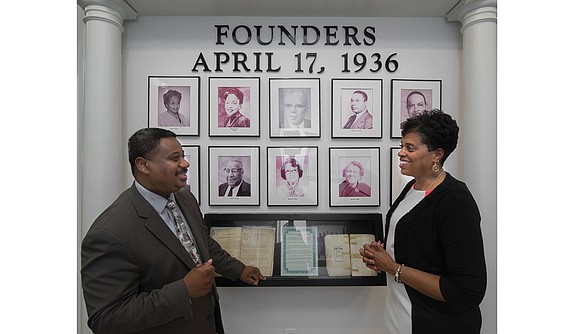 Amid the recovery from the Great Depression, 10 African-American Richmond educators organized a new credit union for teachers in the city that would provide the personal touch and financial services then largely unavailable to them at most banks in segregated Richmond.
But since 1936, the financial environment has vastly changed.
Now the Richmond Heritage Federal Credit Union, among the last black-organized and operated financial institutions in the area, is struggling to recapture vitality as it prepares to mark its 82nd year at its annual membership meeting 6 p.m. Wednesday, May 23, at Links Apartments Manchester, 901 McDonough St. in South Side.
The choice of the apartment complex as the meeting location is no accident, said Randy N. Cooper, the energetic and outgoing president and chief executive officer that RHFCU is counting on to generate new growth.
Mr. Cooper wants people who live in the complex to see and ask about the event. It is part of his strategy of reaching out to newcomers to South Side who are filling the apartment buildings that have sprung up in the Manchester area in recent years, a pool of younger people for whom the credit union could be a neighborhood bank.
His goal is to attract them to do their saving, checking and borrowing online and at the credit union's office at Bainbridge Street and Commerce Road. After all, despite the surge in new apartments and homes, RHFCU is among the few financial institutions still operating in this fast-growing section of the city.
Mr. Cooper, who took over the leadership post from Angela Outing about 15 months ago, has other arrows in his bow. He also is working to strengthen ties with the credit union's traditional partners such as Virginia Union University and the Metropolitan Business League.
The youngest of 11 children who grew up picking cucumbers and tending tobacco with his siblings on the family farm in Enfield, N.C., Mr. Cooper is reaching out to schools and other nonprofits seeking to get the credit union more involved in working with young people to become more financially savvy.
He's also marketing the credit union's heritage and history as another lure for potential customers, while seeking to help potential customers understand his membership-driven operation can help them avoid the monthly fees that big banks charge, provide cheaper loan rates on auto purchases and offer a lower-cost alternative to payday lenders for personal loans.
"That's what we do," said Mr. Cooper, who enjoys pitching the virtues of the credit union to anyone who will listen.

A former branch manager in Richmond for some of the major banks, Mr. Cooper, 47, said RHFCU has no choice but to aggressively seek growth.
Founded as the Richmond Teachers Federal Credit Union, the base of the nonprofit, member-owned institution has eroded, he said. Only about 700 of the more than 2,000 Richmond schoolteachers are members.
He also notes that a majority of the RHFCU's 1,800 members are in the 50 to 80 age range. "When you drop below 40, there just are not many people," he said.